After high school, your children gradually transition into adulthood. Some children jump ahead of the line, eagerly seeking college or career. Other kids do best with a slow start option. Some children prefer to play video games and not become adults at all.
You see, graduation isn't actually your goal. Successfully launching your children into the world of adults is the real goal!
It's hard to know what the future holds because
teenagers are moving targets, constantly changing their minds
from one career option to the next. The only way to be prepared for anything is to have a transcript ready to go at all times. Is your transcript ready?
Listen, Michelle sent me a sheepish question not long ago. Her daughter is 24, and Michelle hadn't made a transcript. Suddenly her daughter wants to go to college and has a full ride scholarship all ready for her - but she needs a transcript from her mom! Remember, her mom hasn't actually been homeschooling her for the past 6 years!
You may be nervous about making a transcript now, but won't it be even harder 6 years from now? Please, get your transcript done now. Make your transcript every year, so you are ready.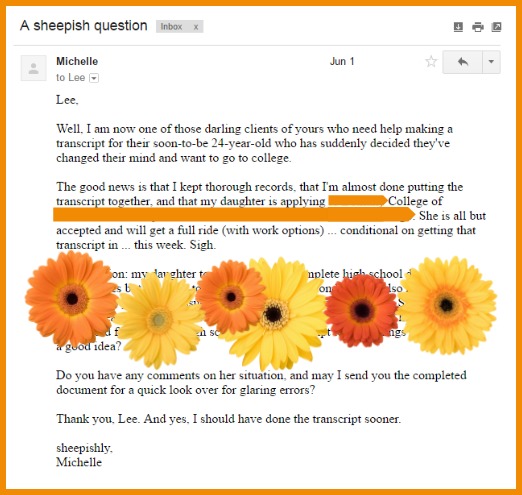 Learn more about the options after high school, because high school graduation isn't the end of anything, it's just the beginning of something else.
Do you have a plan?
Read my whole article,
Options after High School
.
Grab the Coffee Break Book,
Options After High School: Steps to Success for College or Career.

Click Here to Join my Newsletter!