Struggling With Homeschool Art
In my homeschool, there were things I did well (like math and science) and things that completely baffled me (like art.)  When we had a "bad homeschool day" it almost always involved art in one way or another.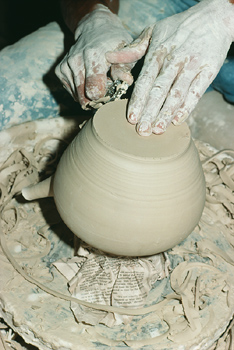 I tried various art projects, but they were all so messy that I lacked the follow-through necessary to make sure the project actually happened.  Even when I did manage to start an art project, I never seemed to allow enough time to do it, and didn't follow through to make sure the project was completed later.  For example, I thought we should try oil paints.  I bought all the equipment, and got the kids outside to work on painting a springtime landscape.  It was a great idea, and my children seemed to like it, but it took much longer than I expected.  After about 2 hours, we had to stop to get back to our academic subjects, and we never returned to finish those oil paintings.  I wish I had given them more time for projects like that!
I tried everything I could think of to get my children interested in art.  Finally I signed them up for a pottery wheel class, hoping they would enjoy working in the mud.  The first day of the class, as my son threw his clay on the wheel, he managed to injure himself.  The sculpting tool he held in his hand impaled his palm as he threw the clay!  Leave it to my family to get injured doing art…. For us, it wasn't so much that we had one bad "day" of homeschooling.  For us, we had one bad "subject" that we really struggled with.
Not every subject will be your favorite, and not every project will be fun.  As the parent, find a way to work within your limits.  Make sure you cover your weak areas (like I tried to, with art).  Try to find the least-painful way to cover the subject, if possible.  Although nobody expects to get skewered by art, I suppose!

Stay Informed
When you subscribe to the blog, we will send you an e-mail when there are new updates on the site so you wouldn't miss them.
Comments
No comments made yet. Be the first to submit a comment