Homeschool: Freedom to Tailor Education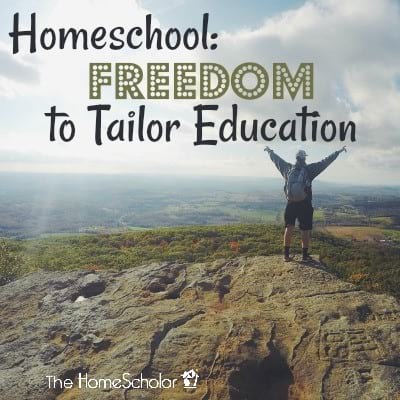 Homeschooling is successful because we can tailor education to the needs of our own child, giving them information in a way that makes sense to them. Homeschooling works because we are highly motivated by love to work for the ultimate success of our child. Using techniques and curriculum that fit, we can make sure any child is successful.
Of course, every child is unique, and each family has their own challenges and struggles. But we don't need to teach a classroom filled with unique students, we only need to homeschool the children in our home, and I daresay we don't have 30 of them at one time. Without the constraints of public school, we are free to modify education as we go alone. "Nimble" as they say in the business world.

Freedom for Reesa was found in the ability to tailor her son's education to his special needs. What Does Homeschool Freedom Mean to You?
Hi Lee,
It's been a couple of years since I signed up for your transcript program. At the time I was trying to get my eldest son into college. He was really struggling to finish his senior year of home school and hadn't completed all his coursework. He just really needed to get on with things. I read through all of your materials and we had a phone consultation shortly afterward. Speaking with you that day gave me the extra confidence I needed to step outside of my comfort zone and let go of my need to "check all the boxes".
I was able to customize his final semester and transcript based on his primary strengths and interests. Following graduation, he took the Texas college entrance exam (TSI), required for students who haven't taken the SAT or ACT and started at our local junior college that fall. He's legally blind and this past May he completed the 30 hours necessary to apply for transfer to university. Due to his 3.8 GPA at junior college, he was accepted to the University of Texas for this fall to pursue a degree in information technology. In the meantime, his younger brother just graduated from home school, scored well on the SAT, and was also accepted to University of Texas for this fall. I'm officially retired as a home school mom!
I just wanted to say thanks for your excellent materials and encouragement. I recommend your website to anyone who asks about home schooling through high school. Wishing you all the best as you continue helping other home school parents out there!
Sincerely,
Reesa in Texas
Yes, homeschooling is a challenge, and sometimes it can be overwhelming to look at the needs of your child. Ultimately though, the love we have for our child will ensure success.
If you need help, I'm here for you! Watch my video on Grades, Credits, and Transcripts to help get you started!
I was so blessed to hear from Reesa, years after I spoke to her, to see the successes she had experienced as a homeschool mom of a legally blind child. She used the Total Transcript Solution to help successfully make her child's transcript. The consultation included in the Total Transcript Solution can give you the confidence you need to step outside your comfort zone. See what Reesa has to say. Maybe you'd like to consider it for your homeschool, too.
SAT®, AP®, and CLEP® are trademarks owned by the College Board, which is not affiliated with, and does not endorse, this blog post or The HomeScholar, LLC.
Stay Informed
When you subscribe to the blog, we will send you an e-mail when there are new updates on the site so you wouldn't miss them.
Comments
No comments made yet. Be the first to submit a comment