Our Community College Stories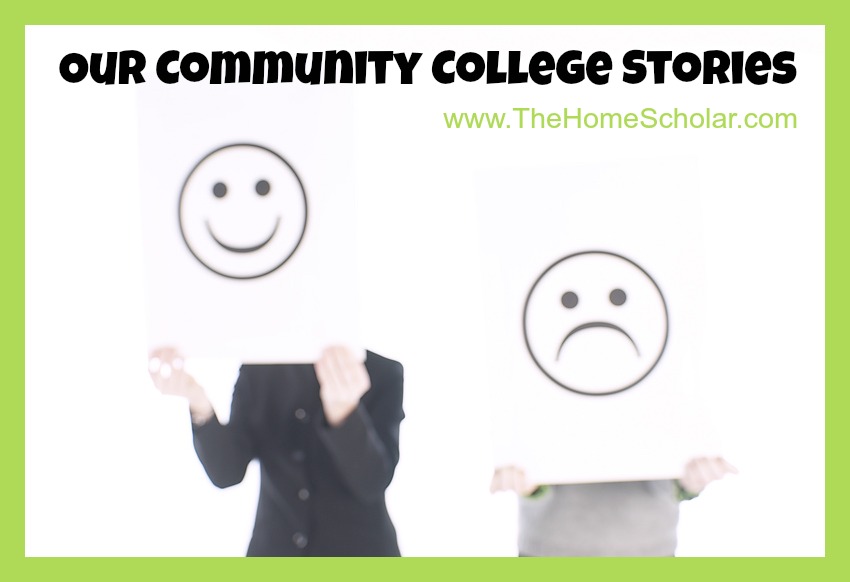 I go to a lot of college fairs in my business. At one community college, I was taken aside and warned to tell homeschoolers not to send their young children to community college!  I was told felons, including predators, were known to be on campus, and the staff worry about innocent homeschoolers.
Although my children started attending community college early, they were well prepared for college. While there were some positive aspects to community college, they also had some undesirable experiences. Here are our community college stories.
 Our Community College Stories
Within the first 2 weeks of college, my children had completed all the required reading and finished all the assignments they possibly could. They spent the next 6 weeks learning how to be lazy and get As without trying. On the bright side, the community college did have an honors program. If they completed additional coursework (taught a class, gave an extra speech, wrote an additional paper) they could add "honors" to their course. That helped a bit.
We couldn't find many classes that would challenge my sons and at the same time not offend our faith. That meant my poli-sci crazy son spent most of his time in engineering, physics, and math classes with his brother. I'm glad he liked differential equations! In addition, my kids encountered people who didn't want to learn for the first time. Students believed passing meant over a 0.7 gpa, and that a 2.0 in a class was fine. People didn't speak up in class, even when they knew the answer. Academic preparation was very low.
I live in very liberal Seattle, but I've heard these same things from a mom in Oklahoma. At the age of 20, I asked my son if he thought community college had been a mistake. He said, "YES!" If I could do it all over again, I would have kept them home and homeschooled college for two years instead of just one. Community college wasn't worth the cost of "free" education.
I have good friend whose children had great success with community college, and she is happy with the results though not always thrilled with the process. Here are her stories:


Calculus professor drops the f-bomb every sentence. (We chose a prof that was a homeschool graduate instead - he ended up coming to our graduation party; great guy).


Physics professor used marital positions to describe physics principles. (This was the luck of the draw - my children didn't get this same professor).


Music class text said "I capitalize Self because I was taught to capitalize the name of God" and instructed class to say mantra each day "I am good, I am great, I am God." (We had looked over the text in advance and declined to take that class).


French class showed movies with unclothed people for "culture."


Speech class teacher and curriculum was OK, but another student did a speech on the religion of sex. (This teacher did take our own son Alex under her wing and provided him with great opportunities).


There were no economics courses that were at my student's level.


The poli-sci classes were taught by a Marxist. (He did write a very nice letter of recommendation for my sons, though).


I firmly believe that parents are the only ones qualified to make decisions about what is best for their own children. I can provide information from my perspective and experience (and my friend's), but each one of you knows what is best for your own child.
Do you have your own community college stories you'd like to share? Leave a comment below!

Please note: This post was originally published in June 2008 and has been revamped and updated for accuracy and comprehensiveness.
Curious about other options besides Community College? Check out my How To Homeschool College ebook for Kindle/Kindle App and learn more.
Stay Informed
When you subscribe to the blog, we will send you an e-mail when there are new updates on the site so you wouldn't miss them.