Recent Homeschool Graduate Discusses Community College
I have written extensively about community college, and how it can be a "Rated R" environment.  I'm the first to admit that my opinion is a little uncommon, and that many homeschooler have great success with dual enrollment community college.  I express concerns that community college may include some inappropriate content, perhaps including sexual or profane language from teachers, students, or curriculum.  It may include crude behavior by other students, or presentation of values that may be contrary to your own.
A homeschool graduate found my articles, and wanted to provide her own experiences with community college.  I'd love to share Elizabeth's thoughts with you!  And if you have had a community college experience, either positive or negative, please leave a comment on this blog post, so others can benefit from your experience!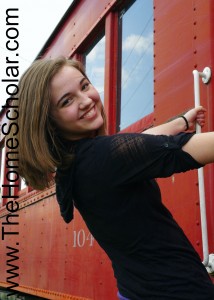 Hello, my name is Elizabeth Brook. I am a recent home-school Graduate. (Class of 2012) and because of a mom of a home-schooled friend, I found your article about sending your child to community college. I will start by saying I am not offended at all, I just wanted to tell you my story to add to your knowledge, so when you discuss this topic with others, you can have more information.

I am the youngest of 3 children, and we were all three stair-steps. My brother was 15, my sister 14, and I was 13. My mom felt like there was no really good curriculum out there to teach us a foreign language, so she sent my brother and sister to our local community college to take Spanish. My brother discovered languages were not his thing, but my sister got an A in the class. But we had discovered an amazing resource. My brother continued taking classes through high-school, which not only allowed him to graduate from high school early, but let him get his bachelor's in computer science, when he was 19 because of the 90 some credits he had earned at Sinclair (Our community college).  My sister also continued taking classes as well and by the time she graduated high school, she had 50-some. Both of them went on to other schools.

For me, I was not interested in Spanish, but I thought the American Sign Language program looked interesting for my foreign language. I started when I was 14, feel in love with the program, and American Sign Language interpreting is now my major. It is a 4 year program, but because I started early, I will be able to graduate sooner. Throughout high school, I also took a few classes not related to sign language, like English.

After telling you our success story, let me address a few of the issues that you brought up in your article.

R-Rated environment- I have never had a teacher do anything like what you described, so obviously it depends on the college. My classes have never had crude material in the text book or in the lesson plan. (The only exception being the class that I have to take learning sexual and profanity signs, but I know what I am getting myself into). Even when discussing Freud in psychology, none of the information was explicit in the least. The other students can be crude, of course. But I was never taught to expect non-Christians act like Christians, so really, I expected it. A few of the teachers swear occasionally, but it has never been overbearing.

I think you brought up a good point by saying that "Your children need to be sound in their faith." And my siblings and I were. We had grown up in church, and our faith was our own. We had also attended Worldview Academy, an intensive week of lectures about our faith, witnessing, and how to defend your faith against those who would try and disprove it. So when in my English class, my professor asked anyone who believed that gay marriage was wrong to raise their hand, and I was the only one who did, I was okay with that. (Disclaimer: The teacher wasn't trying to ridicule anyone's faith; we were talking about a persuasive paper) My point is, I wasn't afraid to take a stand because it was my faith, and I knew what I believed.

I guess what I am trying to say is that if you have a high quality college like Sinclair; you can get a great experience. I have never regretted going to Sinclair, if anything it has helped strengthen my faith. Also, I am getting a sense of the "Real world", while still living in the safety of my own home where I can discuss any issues that come up with my parents. This is not intended to try and force anyone to go to a community college, this is just a different perspective. If you would like any more information about my family's experience, I would be happy to tell you. Thank you for your time.

God Bless!
Elizabeth Brook in Ohio
I loved hearing about Elizabeth's experience, and I was so thankful she gave me permission to share her letter with you.  It's wonderful to see her thrive as a homeschool graduate!
If you have enjoyed this conversation, please leave a comment!  And if you would like to read more about community college, and see the opinions of others, these articles may be interesting.

Do you enjoy our monthly newsletter, "The HomeScholar Record?"  If so, would you write a brief review
here
, so others can benefit from it too?  Thanks!!
Stay Informed
When you subscribe to the blog, we will send you an e-mail when there are new updates on the site so you wouldn't miss them.