Daughter Says Mom is Best Teacher Ever!
When you look back on your homeschool experiences, what stories will you tell?  Donna shares about her homeschool, explaining how her daughter chose a career and took a gap year.  She says that her daughter did THANK her for homeschooling her - as many children do, after they grow up.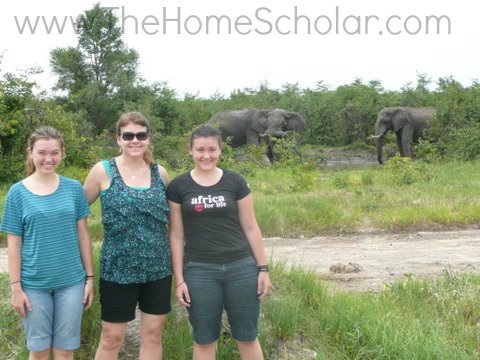 Thank you for your resources. As I had explained back in September when I joined (

The Gold Care Club

) that we were heading to the states for 3 months to get our older daughter, Breanna, settled into college. We had a wonderful 2 months with her and with family before we took her for the spring semester at a Christian University in Missouri. Since we are missionaries with the Assemblies of God we get a 50% discount on tuition and it's a good school where she will be able to study nursing.

I have so much to tell you. I feel like we are friends and you understand all this. 

The only thing I was disappointed about with her admissions process was that they didn't offer her any scholarships. She had a 3.8 GPA and 2190 SAT scores. I guess they give away all the scholarships in the Fall. She has filled out the applications for next fall and hopefully will get some of those.

Even though, she didn't start in the fall and receive any scholarships, the  

gap semester

 she took gave her a chance for the Lord to confirm to her which direction the Lord was leading. Thank you for the resources and insight you gave me at that time when we were considering that option.  She stayed with us in Angola through the Summer months and into the Fall semester . It was such a God ordained decision as she received insight on her direction and studies. The Lord showed her that if she was going to go into medicine for missions work, she would be in school for the next 12 years and do nothing but eat, sleep and study. Bree loves life, is very sociable and loves to be active. She thrives on studying, but doesn't want to only do that for 12 years. So she felt redirected to study 

Nursing 

and get her Nurse Practitioner license. We are so grateful and she has even stated how influential that gap semester was for her. I would encourage students who aren't sure what they want to study to get some real life, hands on experiences and seek God to know when they start what direction they are going. Bree was at a missions hospital and traveled and experienced Angola on her own and what an impact it had on her. We are so grateful for God's leading in her life and for the experiences she had that helped guide her calling and direction for her studies.

I have to tell you this one last thing that was so sweet my daughter posted on 

Facebook

. "I'm surprised at how little writing I have to do in college... I had way more in high school. Obviously 

I had the best teacher ever!

 She prepared me better than any school could have. Love you mom! 

Sorry for all the grief I gave at the time!

"

Boy, makes all those rough days worth it! Home Schooling isn't for cowards with strong willed children!

I am busy packing as we leave in a week back to the field. The Chinese (curriculum we talked about) is for our younger daughter, Brooke, who feels God's leading to missions in China. I have learned so much after seeing the demanding work load on Bree in college. I better understand what I need to do to prepare Brooke for college in 3 years. I will be in contact more once we are back in Angola and we are home-schooling again. I am so looking forward to tapping in to the great resources you have and make sure Brooke is well prepared.

Thank you for all you offer and do. I have decided to not re-enroll Brooke  into the homeschool umbrella any longer as I now feel confident that with your help and resources I can do it on my own and make her transcript for her, thanks to you. The fees for the gold club membership will only cost a little bit more than what I was paying for enrollment fees. The school was hard to reach and didn't offer many resources. I feel so supported being able to ask you questions each week.

Blessings,

Donna in Angola
Isn't that a great letter?  People don't believe me, but our children really DO say 
thank you
!   And yes, it does seem like colleges offer many more scholarships in the fall.  That's why I'm always harping on people to start applying during first day of senior year.
Thank you for the great letter, and sharing your wisdom with us, Donna!

Learn how to save money homeschooling with my free Special Report: "7 Secrets to Homeschooling Through a
Financial Storm
."
Stay Informed
When you subscribe to the blog, we will send you an e-mail when there are new updates on the site so you wouldn't miss them.
Comments
No comments made yet. Be the first to submit a comment