Online Classes, Community College, AP, or CLEP?
Are you wondering just what to do next? There are so many options for your homeschooled child!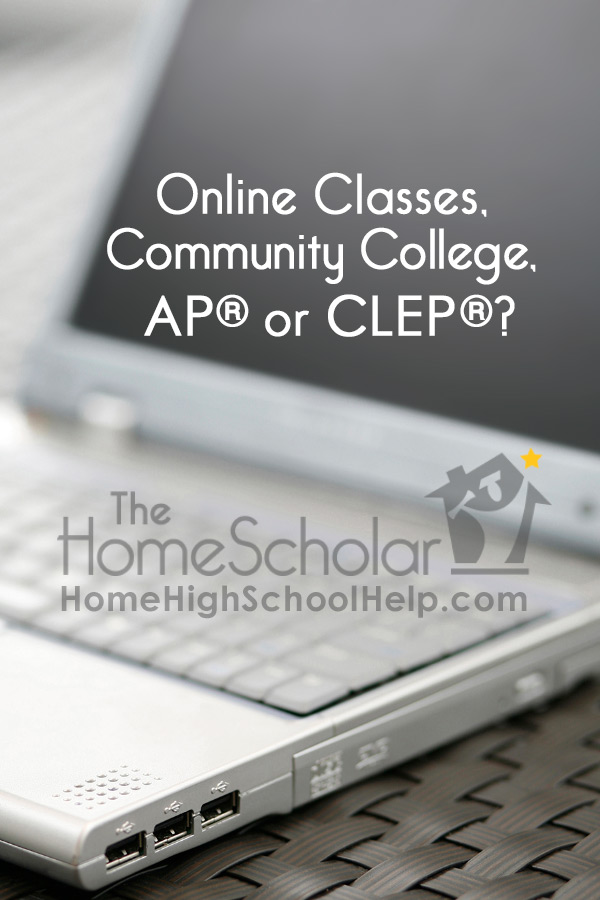 I remember what it felt like to worry around in circles over these options! Choosing between
community college
,
AP courses
,
CLEP exams
, online classes, and other options depends on your child. I have recommended each option to different homeschoolers.
When you're making the decision for your family, take a step back and think about what your goals are for your child. If you need to save money on college more than anything, then consider CLEP or AP exams. If your family is most concerned about providing college in an environment that supports your world view, then you may want to consider online classes. Has your child fallen far behind in school and needs to quickly get foreign language or math or science credit? Then consider community college. 
To help you decide, it can help to think about your goals for college. Decide what college your child wants to go to. Contact admissions and ask about their policy on CLEP, AP, Community College, and online classes or distance learning. 
If all methods are acceptable to the college you want your child to attend, then consider their chosen college major. It's difficult to use distance learning for science and engineering classes and easier for liberal arts and introductory classes. Students considering graduate degrees (law and medicine for example) will need to find out if their application to law or medical school will be affected by their choices. In general, engineering degrees are not harmed by taking CLEP or AP exams, but they can be made slightly easier if you can eliminate the core freshman courses. Engineering classes may also be available to high school students through community college.  Students interested in law school or medical school may need to complete their undergraduate degree on a college campus, rather than online, particularly to go to a competitive university. In general, if a student wants to go to a highly selective or Ivy league school, going the traditional high school to college route is preferable.
Always check with your college choices. College policies vary significantly!

Please note: This post was originally published in August 2010 and has been revamped and updated for accuracy and comprehensiveness.
Do you need help creating a transcript colleges will love? You can get the Total Transcript Solution here!
Stay Informed
When you subscribe to the blog, we will send you an e-mail when there are new updates on the site so you wouldn't miss them.
Comments
No comments made yet. Be the first to submit a comment