Three Months of College Can Equal One Year of High School!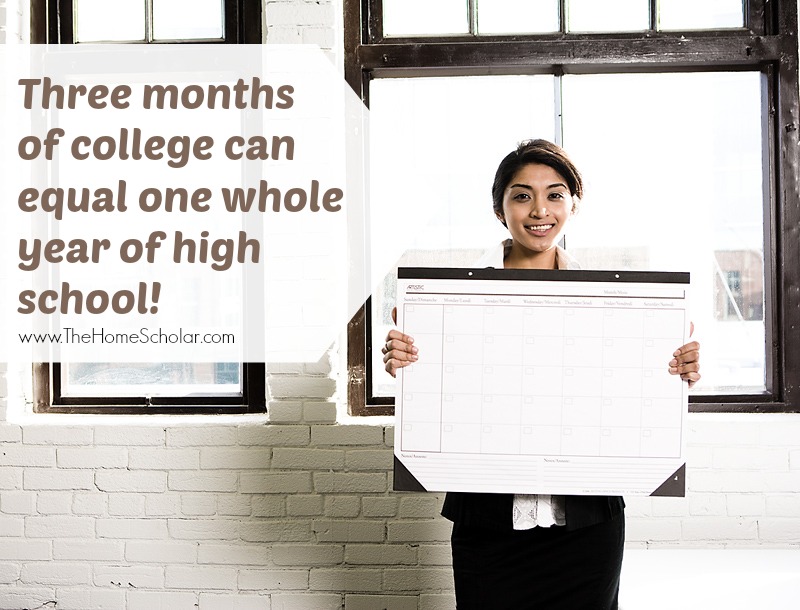 Three Months of College Can Equal One Year of High School!
In community college, they don't spend a whole year working through a calculus textbook; they spend three months. Students in community college also don't go through a level of French in one year, they spend three months, instead. It takes a whole year to get a credit in high school American History. In college, you can finish the course in a quarter or semester. Students will usually take three full courses at a time, then three months later they take another three classes, and then another three classes. In high school, calculus covers...just calculus. In a year of college calculus, students cover calculus 1, calculus 2, and differential equations. This is why...


What a high school calls one credit will be covered in one year, while a college will cover the same material in three months and call it 5 credits.


In other words, three months of college can equal one whole year of high school.


Each high school has its own way of translating community college credits into high school credits, and some colleges don't like credits for community college classes. However, if you are looking to try to reconcile college credits onto a high school transcript, you may want to consider that 5 college credits = 1 high school credit.
Is your child taking dual credit classes at a community college? Please share!

Please note: This post was originally published in August 2008 and has been revamped and updated for accuracy and comprehensiveness.
Would you like to learn more about how you can homeschool college? Check out my Coffee Break Book for Kindle/Kindle app, How to Homeschool College: Save Time, Reduce Stress, and Eliminate Debt!
Stay Informed
When you subscribe to the blog, we will send you an e-mail when there are new updates on the site so you wouldn't miss them.