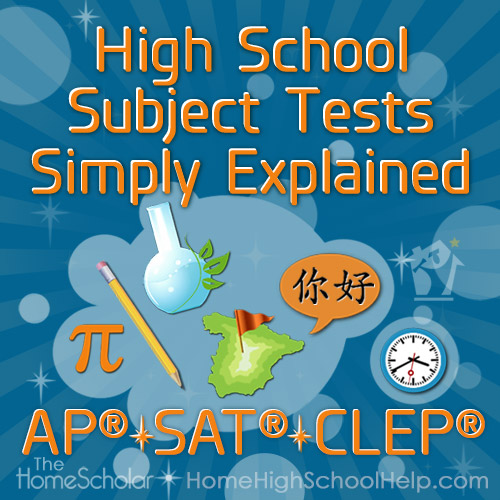 October 2015
Lee Binz
The HomeScholar
AP - SAT - CLEP – Making Sense of the Acronym Avalanche
There are many different high school subject tests to choose from. Perhaps you have already heard about the AP Test or AP classes from your homeschool group. Maybe you have heard about required SAT Subject Tests, or wondered about CLEP tests after hearing them mentioned at a convention seminar. Let me explain them all, plain and simple in one quick overview, to get you started in the right direction.
The 5 W's of High School Subject Tests
Who – College Bound High School Students
College bound students, especially those destined for selective schools, should consider taking subject tests. Subject tests can be helpful because they are a common measurement of a student's understanding of the material.

Many colleges understand these tests, and some require them for admission. Most colleges require either the SAT or ACT® test as outside documentation, but some want more in the form of subject tests. Not all require SAT Subject tests. Fewer still require AP Exams. No colleges require CLEP tests, but some accept them, to strengthen the college application.
What – SAT Subject Test, AP Test, CLEP Test
SAT Subject Tests are one hour long, multiple choice tests that measure a high school amount of learning in a specific subject. SAT Subject Tests are quick, don't require specialized learning, and are intended to demonstrate general high school knowledge.

AP Tests are three hours long, most include essays, and they measure a college amount of knowledge. AP Tests assume that a student has taken rigorous AP classes approved by The College Board®. Special AP classes are not required, however. Anyone can take an AP test, even if they have not taken an AP course.

CLEP Exams are computer-based multiple-choice exams offered year round that can provide college credit. CLEP exams are college level tests that assume a student has learned naturally through reading, visiting museums, reading the paper, and engaging in hands-on learning. These exams are often a great fit for homeschoolers because they don't assume everything was learned in a classroom setting.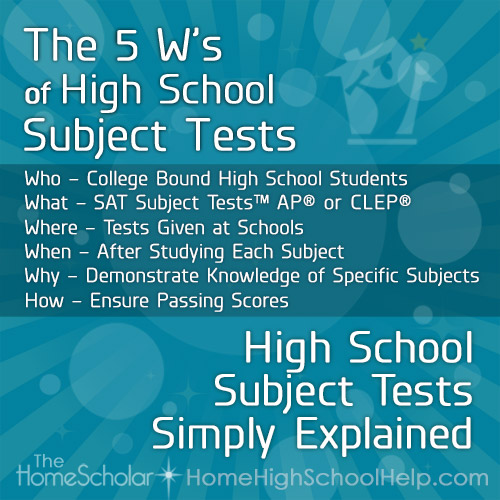 Where – Tests Given at Schools
Public and private high schools usually host subject tests. The SAT Subject Tests are offered multiple times a year, often at the same location as the SAT or ACT® exams. The AP Exams are also offered at schools in May when AP classes are ending. CLEP exams are unusual, because they are typically taken by people who are not in public high school. They are given at computer test centers at colleges, technical schools, or community colleges.
When – After Studying Each Subject
Most students take subject tests in their sophomore and junior year so their results are ready to present to colleges with their applications in senior year. Some students take them earlier. In most cases, tests should be given immediately after study of the subject is completed, so the information is still fresh. In other words, have your child take the chemistry exam right after they finish their chemistry class.
Why – Demonstrate Knowledge of Specific Subjects
Subject tests are useful to prove your child has learned a subject thoroughly. In an objective, measurable way, these tests demonstrate achievement in one subject at a time. The SAT or ACT® test can demonstrate a general understanding of reading, writing, and math, but they aren't specific. It can be helpful to take a subject test in each broad subject category: math, English, history, science, and foreign language. If a college wants two subject tests, have your child take the two tests they will do best at, in the subject they enjoy most.
How – Ensure Passing Scores
Register for each test months in advance, so you don't miss the deadline, but don't let your student take a test unprepared. Have your child take a sample test at home, to make sure they know the material. Then help them study for the test using study guides at home, filling in any small gaps in the information. Sit your child down to take a full-length, timed sample test, to be sure the student can succeed with the timing and the format of the test. Then have them take the real test at a testing location.


The bottom line is, never have your child take a test if you believe they will not pass. It can hurt their future testing ability, and cause problems with your child's self-perception. Pre-test at home to make sure your child is comfortable with the material and the test format. Only have them take a real test once you are confident they can pass it. If you aren't certain your child will earn an acceptable score, don't have scores sent to colleges until after you have seen the results.  

The 5 Rights of High School Subject Tests

Now that you know the basics about the tests, there are other things to consider. It's unusual for a child to go to college classes or take a college test without feeling some stress. A bit of stress can be helpful, so children can learn to deal with stressful test situations. On the other hand, you don't want to build anxiety up in your child needlessly until they develop a phobia of tests. You don't want to ask them to take a test they aren't comfortable with.

When I worked as a nurse, we were taught to avoid drug errors by using the "five rights" of medication administration: the right patient, the right drug, the right dose, the right route, and the right time. Using that same strategy, here are the "five rights" of high school subject test success.

1. The Right Test - Decide Which Tests are Best

Choose the best test for your child. If your child is taking advanced classes and wants to attend a selective college, an AP test may be best. Independent learners with advanced knowledge might do best on a CLEP test. If your child is working at grade level, but not taking honors classes, then perhaps SAT Subject Tests are best. If you aren't sure what level your child is in a subject, or if you are unschooling, then SAT Subject Tests might be helpful.

2. The Right College - Know What Your College Wants

Subject Tests may be required by a college. Some colleges require up to five or more SAT Subject Tests from all applicants (not just homeschoolers). It can help to know which tests your chosen colleges might require ahead of time, and then try to exceed their expectations for college admission and scholarship success. You can meet or exceed their expectations by taking tests that make your student look most desirable. Do an online search for the names of your college choices plus "admission requirements." Remember that college policies change over time, so contact the college directly, before senior year, to find out any additional, updated information.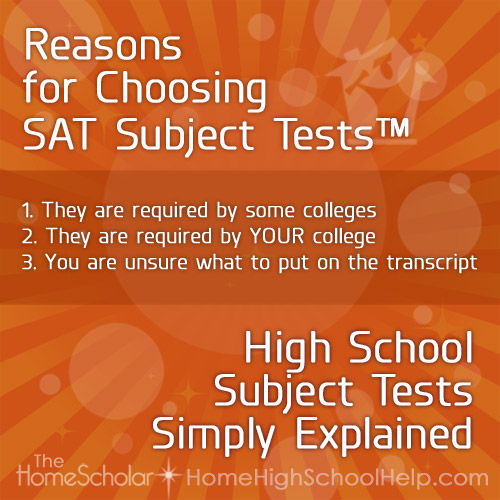 3. The Right Day – Watch the Calendar

Once you have decided on which tests you want your child to take, keep track of test dates. Each year, add important dates to your calendar or planner: registration deadlines, the date of each test, and dates you will receive results. Include the location and test code you will need on test day (See Homeschool Codes for Tests). Send the test results to each college during senior year, if you haven't already.  

4. The Right Preparation – Study for Tests

There are four steps for test preparation. First, your child has to learn the subject, using curriculum and resources that match their learning style. While the subject is still fresh in their mind, pick up a study guide for the test, to prepare your child for the exact questions they will encounter. Next, you need to identify the information they haven't learned yet - topics that might be on the test but weren't covered in the curriculum. Take the time to fill any gaps.  Finally, have your child take sample tests repeatedly, to practice timing, speed, filling in bubbles, and writing essays. This will help them earn the maximum scores. If sample test scores aren't good, consider other tests or options. Study is important, but there are many things you can do to improve your child's test score beyond test preparation. Sleep, nutrition, and hydration are remarkably important!  A few weeks in advance of each test, slide your child's sleep schedule back so they will be ready to work the morning of the test. On test day, make sure they have a good breakfast. They should also bring a snack and water for breaks. Be sure to check the test location in advance, so you know exactly where it is, and can ensure your child arrives rested and unhurried. Don't forget to bring ID for the test, because they are careful to prevent cheating.

5. The Right Resources – Find Information for Each Test

Choosing a study guide and resources can be a challenge. Read online reviews first, because study guides change frequently. The resources below will help you decide on the right test, check out the format, and locate independent study guides you can use at home.

SAT Subject Tests
Research SAT Subject Tests: Collegeboard.org - About the SAT Subject Tests
Take Sample SAT Subject Tests: The Official Study Guide for All SAT Subject Tests by The College Board®
Choose Study Guides for SAT Subject Tests: I prefer Princeton Review Books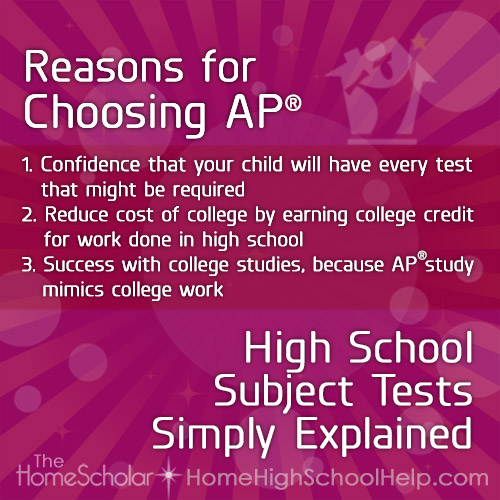 AP Tests
Research AP Subject Tests: CollegeBoard.org - AP Student Home
Take Sample AP Subject Tests: Practice Questions on College Board®.com
Choose Study Guides for AP Subject Tests: I prefer Princeton Review Books

CLEP Exams
Research CLEP Exams: Collegeboard.org Get Started With CLEP
Take Sample CLEP Exams: CLEP Official Study Guide by The College Board®
Choose Study Guides for CLEP Exams: I prefer CLEP Study Guides by REA

If you need additional help, look to the test prep companies specifically geared to the test you need, such as Kaplan and The Princeton Review. You can also hire a tutor. While a general tutor may be helpful for general subjects and test taking strategies, specific tests may require targeted preparation. Look for tutors and classes with specific expertise.

Summary for Overwhelmed Parents

How Do You Decide?

I know that some parents are completely in over their head, near-tears right now, and possibly panic-stricken. Don't stop homeschooling merely because all these different subject tests exist! You only NEED to think about the tests your college requires. Here's a simple summary on how to choose.

Reasons for Choosing SAT Subject Tests

1. They are required by some colleges
2. They are required by YOUR college, as you found out during a college search
3. You are unsure what to put on the transcript, and these tests indicate knowledge of the subject

Reasons for Choosing AP

1. Confidence that your child will have every test that might be required
2. Reduce cost of college by earning college credit for work done in high school
3. Success with college studies, because AP study mimics college work

Reasons for Choosing CLEP

1. Earn a college degree by taking many exams that are accredited by a college
2. Reduce the cost of college by taking a few exams for college credit
3. Validate learning in specific subjects, so colleges know the sum of your child's knowledge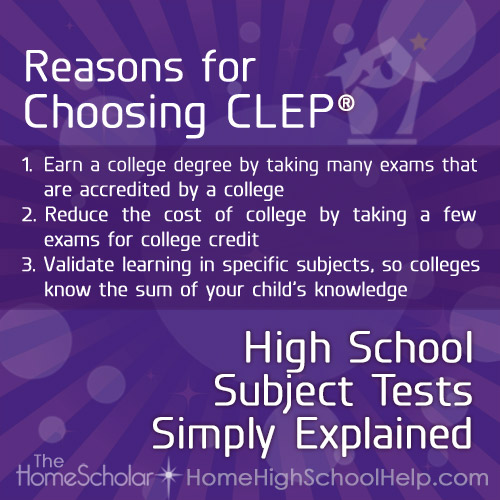 Of course, the difficulty is knowing which colleges your child may want to attend … If you can't determine this in advance, let me give you a one-size-fits-most suggestion. Plan to have your child take five SAT Subject Tests, one during sophomore year, and two each during junior year and senior year. This is usually the number required by colleges that want to see subject tests.

Once subject tests are done, you have the option of including test scores on your homeschool transcript. It's completely optional. If the scores make your child look smarter (good scores), then include them on the transcript. If the scores do not make your child look smarter (bad scores), then leave them off the transcript.

While you do need to meet college admission requirements, if these tests aren't right for your child, there are other ways to earn outside documentation. Dual enrollment, letters of recommendation, comprehensive homeschool records, excellent application essays, and a work resume can also increase your child's chances of earning college admission and scholarships. Learn more about Outside Documentation.

Remember, know your child and trust yourself. As always, do what's best for your child.
---
Copyright © 2015 The HomeScholar LLC, www.HomeHighSchoolHelp.com. Text may be reprinted without permission if used in full, except for use in a book or other publication for rent or for sale. Reprint must include this copyright, bio (below), and the original URL link (https://HomeHighSchoolHelp.com/high-school-subject-tests-simply-explained).

Lee Binz, The HomeScholar, specializes in helping parents homeschool high school. Get Lee's FREE Resource Guide "The 5 Biggest Mistakes Parents Make Homeschooling High School" and more freebies at www.HomeHighSchoolHelp.com.
 Subject Tests Simply Explained (Click it to Pin it!)

The HomeScholar Guide to College Admission and Scholarships: Homeschool Secrets to Getting Ready, Getting In and Getting Paid
[Paperback]

There's nothing more stressful to parents than college admission and scholarships. Many parents question whether it's even possible to find a college that is satisfying to both parent and child, a college that will love their student and offer them scholarships to attend. "The HomeScholar Guide to College Admission and Scholarships" puts these concerns soundly to rest. Author Lee Binz shares the principles she followed to help her own students achieve admission and full tuition scholarships to their first-choice universities.

Learn the secrets to successfully navigate the college process from start to finish, including selecting a college, negotiating college fairs, earning merit-based scholarships, and marketing your student effectively. Receive gentle encouragement and practical help from Lee Binz, a homeschool coach and mentor who really understands. Relax and enjoy a casual conversation, sprinkled with scripture, humor, valuable tips, and quotes from The Princess Bride! Whether you're looking at college entrance for your first graduate or want to do better with your next child, you will find countless treasures in this book.

---

High School Testing: Knowledge That Saves Money
(Coffee Break Book) [Kindle Edition]

Understanding the common high school tests, such as the SAT, ACT®, AP, and CLEP can lead to huge college savings, because colleges reward high test scores with great scholarships. That's why it's important to learn all you can now to help your child do their best on any tests they take.

"High School Testing," compares all the major high school tests available to homeschoolers, and outlines the strategies & study tips your child can use to excel at college admission and scholarships. Whether or not you're a fan of standardized testing, you'll learn their value and which ones are worth the time and effort.

---




High School Testing
[Online Training]

In this webinar, Lee compares major high school tests, discusses general strategies & study tips, and shares how her sons homeschooled one year of college using CLEP exams.
SAT®, AP®, CLEP®, and SAT Subject Tests™ are trademarks owned by the College Board, which is not affiliated with, and does not endorse, this blog post or The HomeScholar, LLC.
---
Copyright © The HomeScholar LLC, www.HomeHighSchoolHelp.com. Text may be reprinted without permission if used in full, except for use in a book or other publication for rent or for sale. Reprint must include this copyright, bio (below), and the original URL link (https://HomeHighSchoolHelp.com/take-the-psat-for-fun-and-profit).
Lee Binz, The HomeScholar, specializes in helping parents homeschool high school. Get Lee's FREE Resource Guide "The 5 Biggest Mistakes Parents Make Homeschooling High School" and more freebies at www.HomeHighSchoolHelp.com.
This post contains affiliate links. If you click and buy I make a few pennies, but not enough for a latte.