Dual Enrollment Senior Year
Senior year for most college-bound homeschoolers is usually packed with college applications, scholarship essays, forms to fill out, and choices to make. It's always a busy time! In fact, it's SUCH a busy time, it's hard to fit it all in! Particularly when your child is doing dual enrollment...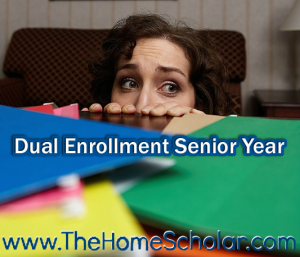 "Senior year seems like a really busy time. Is it possible for a student to successfully do both dual enrollment and complete scholarship applications and essays, etc.?" - Mary
Dual enrollment is when a high school junior or senior attends community college and gets both high school and college credits at the same time for their work. If your child is doing dual enrollment, chances are their schedule is packed, and you never really know when those midterms and finals are coming up; it's a very intense time. For that reason, I strongly encourage you to complete your entire application process during the summer between junior and senior year.
You may not be able to upload your college applications to a school's website during the summer, but complete everything anyway. Write the essays, and make sure your application is all ready to go. It's helpful to pick up a paper copy of a school's application at a college fair, so that you can fill it out during the summer as practice, and you're ready to just type it in when it's time to fill it in for real.
For students doing dual enrollment, it's possible to fill out school and scholarship applications during senior year, but you really have to set aside entire, multiple weekends in a row to get it done. Most 18-year-old young adults will balk at giving away their weekends to fill out college applications, so I don't recommend this method! Plan ahead, and work during the summer so that the fall goes smoothly.

Would you please rate my website at
Homeschool Top Sites
!
Stay Informed
When you subscribe to the blog, we will send you an e-mail when there are new updates on the site so you wouldn't miss them.
Comments
No comments made yet. Be the first to submit a comment