When Do You Need a Transcript?
When will you need your homeschool transcript?  It's hard to say exactly. The first time you need it may be sophomore year, when your child starts driving.  Many insurance companies provide a good student discount for teenage drivers, and your homeschool transcript is required.  It may be during junior year, when you need to review grades and credits with your child, so they report their grades correctly when they take the PSAT for the first time.  You may need a transcript for the first time when your child applies for a scholarship opportunity or a summer camp.
Making a homeschool transcript is never convenient, though.   It does seem like the first time you need it is never when you have plenty of time to spend on making it a perfect transcript.  It always seems to sneak up on parents.
What will you do when you find out, "Surprise!  You need a transcript today!"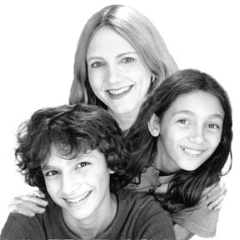 Here is one mother's experience.
In April,  my homeschooled senior daughter was applying to a very competitive specialty summer college program at a major Ivy League university. I had to come up with a really professional looking transcript, FAST, and I was really dreading it.  However, I ordered your Homeschool Total Transcript Solution guide, and it was all you said it was! I was able to write brief  course descriptions and find legitimate credits in activities and learning experiences I had never thought of as 'transcript material' before!  And the format was very professional and official looking, plus easy to use.

You  even made the process fun!

She had very good SAT scores, and a unique portfolio, and -- in a program where they seldom give scholarships -- she received TWO different scholarships!   So she was able to attend, and enjoyed a very intense and horizon-expanding six weeks. THANK YOU so much for your common-sense and friendly information.

It was worth about $6,000 to our family.

Warmest Regards,    Sue in North Carolina
You can read more about the
Total Transcript Solution
.
Learn how to make a transcript early in high school, long before you think you'll need it.  Keep your transcript up-to-date each year.  Then you'll never be surprised!

You can get the Total Transcript Solution here. It's all the help you'll need to make an AMAZING transcript that colleges will LOVE!
Stay Informed
When you subscribe to the blog, we will send you an e-mail when there are new updates on the site so you wouldn't miss them.
Comments
No comments made yet. Be the first to submit a comment