Non-Traditional Ways to Determine High School Credit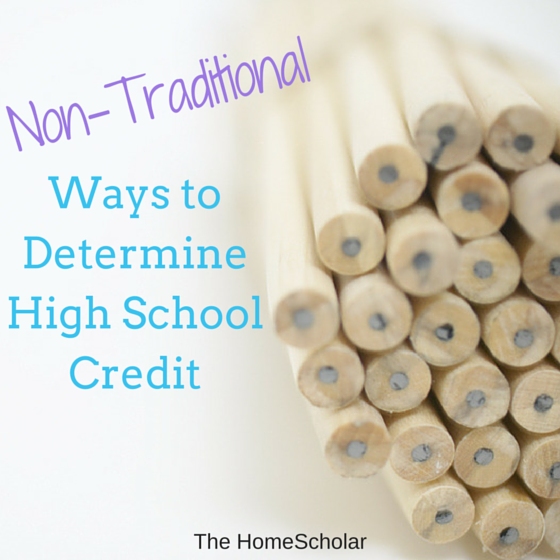 Non-Traditional Ways to Determine High School Credit
There are many different ways you can determine high school (
and sometimes college
) credit for your homeschool student. It's one of the great things about homeschooling! The usual test-and-quiz evaluation method isn't the only way to give your child credit on their high school transcript. Other methods are just as legitimate, and in some cases even easier!
One way your child can earn credit is through dual enrollment in a community college. They may be completing a correspondence or distance learning class, or are sitting in a college level course. College level learning should go on the high school transcript.
Perhaps your student is taking credit by examination. Many homeschoolers take
College Level Examination Program (CLEP) tests
, which show college level learning at any age. Other parents use Advanced Placement (AP) courses to determine that their child knows a college amount of material. If your child takes a CLEP or AP test and they demonstrate college knowledge in a subject, whether you taught it or not, make sure to put that on their homeschool transcript.
Another way you can award credit is to look at demonstrated expertise, although it's a little bit harder to nail down. One way to recognize expertise is to get a professional's opinion. If you have a friend that is a college professor or teacher, and they say your student has demonstrated high school or college level work, then you can be confident in giving your student credit for that expertise.
Sometimes students get published in an adult-level paper or periodical.  Getting published in National Geographic Magazine or having research on mushrooms published shows expertise. They may even land a job in the field. One of my friends' daughters was a dental assistant at a very young age, holding an adult job in a career field. This is demonstrated expertise which you can put on a transcript.
Some students compete in an activity that demonstrates high school or adult level work. Students who compete athletically often compete against adults and their expertise is certainly worthy of recognition and credit. Several homeschool students have competed on the U.S. diving team  at the Olympics—I hope their parents gave them credit for it! Other students compete in debate tournaments, Bible Quiz tournaments, or 4-H state events, which all demonstrate expertise and knowledge.
Remember that knowledge is demonstrated in many different ways and doesn't have to be evaluated by a test or a research paper. If your child shows high school or college level knowledge on a topic, you can
award them credit on their transcript
. This is one of the advantages you have as a homeschool parent—freedom to let your child learn at their own pace and explore many interests, instead of being restricted by a school's agenda or curriculum.

Click to Join my Newsletter!
Stay Informed
When you subscribe to the blog, we will send you an e-mail when there are new updates on the site so you wouldn't miss them.
Comments
No comments made yet. Be the first to submit a comment