How to Show Tutors on the Transcript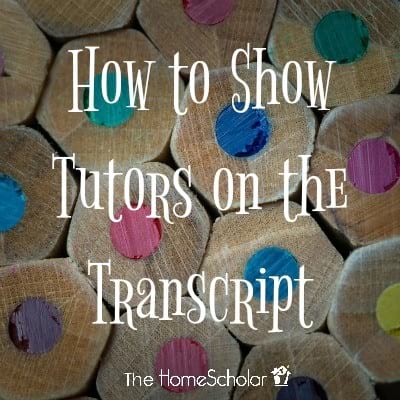 [This post contains affiliate links. If you click and buy I may make a few pennies, but not enough for a latte.]

There are some very intense homeschoolers that don't feel confident in homeschool classes that are taught independently. That's not me. I like to make homeschool transcripts the easy way. But, if you are feeling pressured to list your tutor or outside class on a transcript, relax. It's not necessary.
Some homeschoolers say that you "should" do classes outside the home or that you "should" indicate the location of each class. I disagree - there is plenty of research showing that homeschoolers provide a good outcome without outside classes, we don't need to prove anything.

On the other hand, some homeschoolers take classes at a brick and mortar school, a high school or college, and that's ok, too. For classes at a school or college, you DO want to indicate that on the transcript. I recommend using Acronyms for Outside Classes like that.

But for classes that are taught outside the home, but still basically a homeschool class, I suggest only making a note of that in the course descriptions, and only if you want to. So, I recommend keeping the teacher or tutor info to a simple statement on the course description - perhaps like this.

English: Literature and Composition

Resources used:

Primary Text: IEW Live Online Writing Class
Supplemental Text: Excellence in Literature: American Literature
Tutor: Laura House, IEW Live Online Writing Class Instructor

if you have many questions about making a transcript, this article may help: How to Make a Homeschool Transcript.

I hope this helps to put your mind at ease! The transcript can be done a variety of ways, but I chose to make it reflect our homeschool in the simplest, truest way possible.
Comments
No comments made yet. Be the first to submit a comment