Encouragement for Parents of Struggling Learners
What happens when REAL homeschoolers grow up?  You know, the kids who have to actually WORK to learn?  I'll tell you what happens - they succeed!
This is a letter I recently received from a friend willing to share the ups and downs of her journey - and their ultimate success!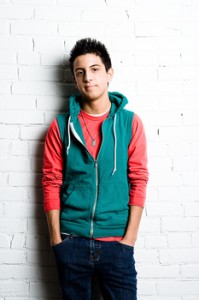 I just have to share what happened today. My oldest child, Rhett age 16 and in the 11th grade, won the National Guard Outstanding Achievement Award. They give our one per state and only 100 in the world. He won it for having the highest GPA in Automotive Technology.

He was also the first EVER first year student to be invited to participate in national competition and he's been asked to participate in two. He won the Star Student Award several weeks ago for having the highest GPA in the college. He's only in his first semester and he's already been approached by several technical institutes (such as WyoTech) about a full scholarship.

What makes this so amazing is that this child has ADHD and a serious reading comprehension issue for which there is no cure. This is the student that the public school told me was unable to succeed because of his reading problems. I've been ridiculed and degraded for choosing to homeschool my children and this feels like a sort of vindication to me! I'm so proud of him and of all he's accomplished. God is so good!

Just wanted to share all of this with you - many of you have kept my head above water over the years...and I wanted to share this success with each of you. Let it also be an encouragement to all of those starting out that you CAN do it!

Emily
I asked Emily to encourage other parents dealing with learning challenges. Hopefully others will be able to glean helpful tidbits for their own children.
I never did anything special curriculum wise - he is a math/science/history whiz. He can memorize anything and remembers the most inane details about things. Our only special resource was prayer, our belief in him, and his belief and determination to succeed. He never gave up or even considered for a moment that he couldn't or wouldn't succeed. The only issue he ever has had was reading - and it was a HUGE issue - but God saw fit to bless him with talents that put him head and shoulders above the rest in spite of his comprehension problems.

I will say that seeing Casting Crown in November of 2007 changed his life. The lead singer, Mark Hall, gave his testimony. He talked about his struggle with ADHD and dyslexia and how people always told him he'd never amount to anything, but God didn't believe that. We stood there in that coliseum, my husband, myself, and my son (13 at the time) with tears streaming down our faces. I knew, beyond a shadow of a doubt, that God had intended us to be there. The impact that made was incredible.

We always planned college. I've never doubted his ability for one second. I doubted mine plenty of times, though! Lol. Thankfully, I have a wonderful godly man for a husband who has always believed in me and our children. I always knew that Rhett going to college would mean work for us - if he was going to succeed, we were going to have to continue to be willing to give. The amazing thing? He hasn't needed our assistance on anything since beginning classes in August! He quickly excelled about the others and is, in fact, helping the instructor by teaching many things to the other students.

Rhett decided last year that he wanted to take automotive technology at the local college this year. Neither he nor we thought that he'd make a career choice out of it (we didn't have objections, but while he's always had an incredible interest in automotives and anything technical, he viewed it more as a hobby). Within a two weeks of classes starting he was talking about it in more and more. By the mid-quarter mark he knew that this was his calling and what he wanted to pursue with his life.

His plans are to attend a technical school after high school graduation and after finishing there he wants to attend a school for diesel mechanics as well. We know that with God's help he will continue to succeed.

The thing I want to say most to parents everywhere is this: "Never, ever, ever believe what someone else tell you about your child's abilities. God gave your child to YOU. Our children will live up to our expectations so set the bar high and be there to help them reach above and beyond. Believe in your child and his dreams and do everything in your power to make sure he can achieve them."

Again, thank you so much. This journey has been long and hard and has contained MANY tears and sleepless nights. I've been ridiculed, degraded, and talked about in the most cruel ways. But in the end, I wouldn't trade one tear or sleepless night or hateful word, because it made me and Rhett who we are. Who God wants us to be. What else matters?

So grateful,
Emily
For more encouragement, please see my article "
College for Struggling Learners"

Do you enjoy these daily doses of high school homeschool wisdom?  Sign up to get them delivered via email or reader!

Stay Informed
When you subscribe to the blog, we will send you an e-mail when there are new updates on the site so you wouldn't miss them.
Comments
2
Loved this! What an amazing story!
[...] This post was mentioned on Twitter by Jamie Worley, Lee Binz. Lee Binz said: What happens when REAL homeschoolers grow up? http://wp.me/pctmJ-1jV #homeschool [...]
[...] This post was mentioned on Twitter by Jamie Worley, Lee Binz. Lee Binz said: What happens when REAL homeschoolers grow up? http://wp.me/pctmJ-1jV #homeschool [...]