I help prepare parents to homeschool high school all the time. I tell them to "read books, attend conferences, watch instructional videos and invest in yourself and your chosen profession." Parents also want to know the other side of the equation. How do you prepare your child for high school?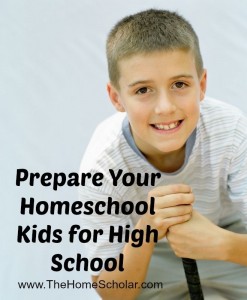 Prepare Your Child for High School
I have great news. The way you prepare your child for high school is the same way you prepare them for success in life.   Teach them to confidently read, write, and do math quickly and accurately. Do what it takes for them to develop good study habits and work ethic.
Teach them to be independent, so they can eventually self-teach. At the same time, they will need to respect your leadership so they will complete assignments you give them.   Teach them honesty, so they don't try to cheat or mislead you as they work independently. Keep their work in elementary school challenging, so they know what it is like to LEARN instead of KNOW new material. Make sure the work isn't overwhelmingly difficult, so they don't learn to hate school.  In elementary and middle school, teach your child how to pace themselves and their work, so they don't suffer from burnout. Having a schedule may help, but others achieve that goal by limiting the time allotted for each homeschool task. Have your child help around the house, and make sure they know they are family members as well as students.
Spend time in elementary and middle school working through issues that arise. Parenting doesn't get easier as children get older! Face  problems head-on, working through them as they come up, so high school will go more smoothly.
Enjoy homeschooling in elementary and middle school as your prepare your child for high school!
How are you planning to prepare your child for high school? What are you most worried about? Please share!

Please note: This post was originally published in October 2010 and has been revamped and updated for accuracy and comprehensiveness.
The HomeScholar Gold Care Club will give you the comprehensive help you need to
homeschool high school
.