Homeschool Curriculum Mismatch
We used Jay Wile for my two oldest. We struggled/battled/survived but it is just not working for my 9th grader. We stopped halfway through Physical Science, switched to Alpha & Omega Switched-On Schoolhouse, which wasn't much better. I'm dreading Biology next year but will struggle through Jay Wile if there is nothing else out there for the non-Science family.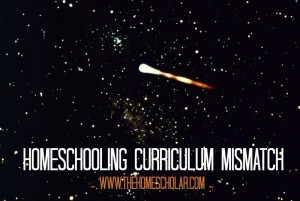 Homeschool Curriculum Mismatch
How do you know when a homeschooling curriculum just isn't working for you? Listen to the words you use to describe it! "Struggled, battled, and barely survived"? Those words indicate a curriculum mismatch!
I love Apologia, but I recognize it isn't for everyone. I have heard more complaints about physical science and general science than I have heard about their biology, chemistry and physics, though. It may be just that particular BOOK that wasn't a good fit. Biology, chemistry, and physics are so different from one another, it's very easy to love one of them and loathe the other two! Don't completely give up hope on other Apologia books.
Apologia is a textbook curriculum. Another option is
Beginnings Publishing's Spectrum Chemistry
. It's a little bit more experiment-based, and less focused on reading. You can also search for a science curriculum that is interesting to your children. Check out
HomeScienceTools.com
to find other options.
You might consider taking a year to study a science that truly interests your children. Consider astronomy, geology, botany,  electronics, crime scene investigation, or computer science. The following year, when they have forgotten how much they loathe science, you can reintroduce biology or chemistry.
For a non-sciency family, find something your children can tolerate, even if they don't end up loving it. Make sure they are consistent, because if they do science only sporadically they may end up hating it even more. Try to find some fun and meaningful supplements, particularly if they are kinesthetic learners. A field trip to the zoo or hospital, a hands-on first aid class, or outdoor botany lab work can help.
There is so much to explore in the area of science. Don't settle for a curriculum mismatch!
Have you experienced a curriculum mismatch? What curriculum do you enjoy using for science? Please share!

Please note: This post was originally published in July 2010 and has been revamped and updated for accuracy and comprehensiveness.
You can get the Total Transcript Solution here. Then you will have everything you need to make a winning transcript for your child!
Stay Informed
When you subscribe to the blog, we will send you an e-mail when there are new updates on the site so you wouldn't miss them.