Grab the NEW HomeScholar Book!
"Honey, There's a Crazed Mob of Scholarship-Wielding Colleges Pounding on Our Front Door!!"
While we can't promise that this will happen to you, "The HomeScholar Guide to College Admission and Scholarships" really is a treasure trove for college bound homeschoolers and their parents! This paperback book is available now on Amazon. Grab your copy today!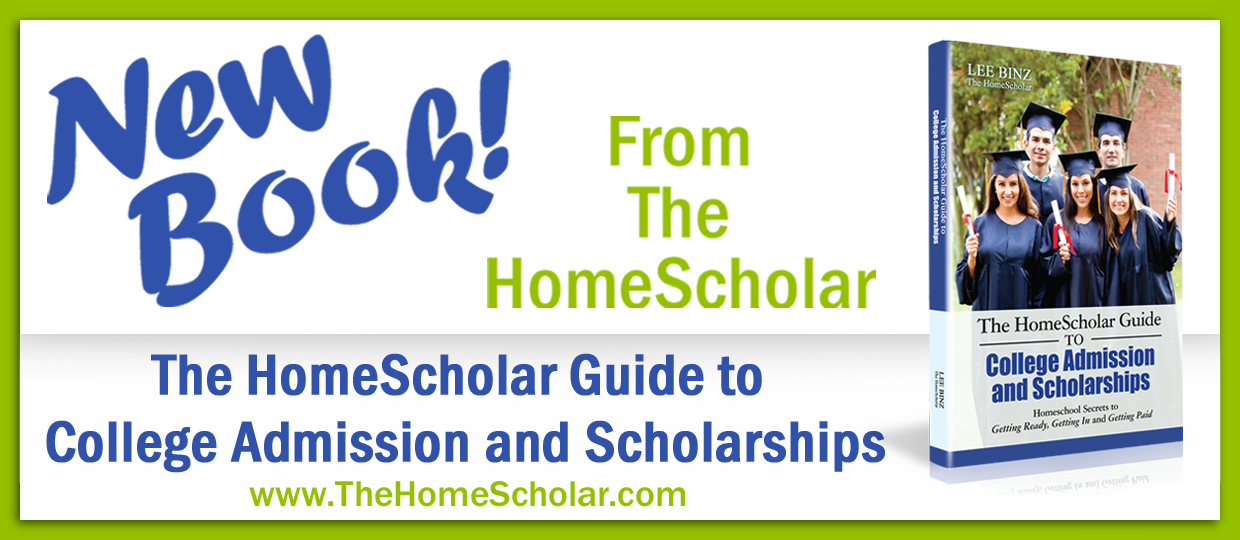 Find a College - and Afford it!
This book will help your student find a college to love, a college that will be equally satisfying for both parents and students, and a college that will love your student and do all in their power to court you and persuade you to choose them. Lee covers a variety of helpful topics.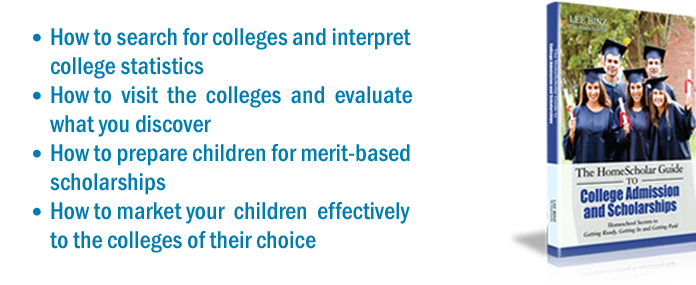 Through it all you will learn to navigate the high school years with confidence. 
With this book, you can give your students their best shot at finding the "Love of their Life." Help them find a college that will love them almost as much as you do.
Planning timelines and guides, helpful tips on selecting a college, attending college fairs and finding scholarships, personal stories, resource lists, and step-by-step suggestions to make the most out of junior and senior year are just a few of the resources to be found here.
Whether you are looking at college entrance for your first graduate, or have already assisted several children in their search for college "true love," you will unearth countless treasures in this new book.
Humor throughout, sprinkled with Scripture, and quotes from The Princess Bride. What could be more fun?
Grab Your Copy Today!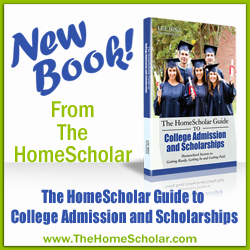 People You Know and Trust LOVE this Book!
For nearly a decade, Lee Binz has specialized in helping home educating families plan their studies, keep good records, and maintain transcripts suitable for college acceptance. She knows how to navigate this often confusing or frustrating labyrinth better than anyone.
~
Andrew Pudewa
, Homeschool Father and Director at the Institute for Excellence in Writing.
ExcellenceinWriting.com
I strongly recommend this book to all homeschooling parents who think that college might be in their child's future. It not only demystifies the process of college preparation, it will also put you at ease as you help your child make one of the most important decisions of their young life.
~
Dr. Jay Wile
, Author of the "Exploring Creation with" Series of Junior and Senior High Science Courses.
DrWile.com
Lee helped calm my fears (about college), and walked me through the whole process. Reading this well-written book will do the same for you.
~
Todd "The Familyman" Wilson
, Homeschool Father of 8, Familyman Ministries.
FamilyManWeb.com
What an incredibly valuable resource Lee Binz has provided to homeschoolers! My only complaint about this book is that it wasn't available fifteen years ago!
~
Diana Waring
, International Homeschool Speaker and Author.
DianaWaring.com
Lee sums up in a concise and enjoyable way what took me years to learn about getting your homeschooled child into college. I found so much helpful information and truths I wish I had known earlier. This book is an essential guide for the journey to college.
~
Jeannie Fulbright
, Homeschooling Mom of 4, Author of Apologia's "Young Explorer" Science Series.
JeannieFulbright.com
Lee Binz is an encouraging hand on the shoulder and a voice of reason, providing strength and guidance that homeschool families need to successfully sail into higher education.
~
Holly Craw
, Homeschool Mom, Writer, and Mentor.
Phoenix Homeschooling Examiner
This book may well be one of the best investments you will make in your homeschool. Whether you are looking at college entrance for your first graduate, or have already assisted several children in their search for college "true love," you are likely to unearth treasures in this new book.
~
De'Etta Goecker
, Military Mom and Chaplain's Wife, Homeschool Parent of 9.
Choosing Joy
Offering a practical, do-able approach to college prep, Lee speaks as a knowledgeable parent, but more as a good friend than a do-it-my-way master. Lee's solid advice will help your student find their perfect college-partner as well...and maybe a scholarship to boot.
~
Carol Topp
, Homeschool Mom and owner of
HomeschoolCPA.com
I wholeheartedly agree with Lee's sound and practical advice. Throughout the book, she admonishes parents to plan for success, and not merely let the chips fall where they may. Whether you're shepherding your first child through the wilds of the college admissions process, or you're now an old pro, Lee's valuable tips will help you make the best decisions for your teen-and avoid pitfalls along the way.
~
Kim Kautzer
, Mom of 3 Homeschool Graduates and Author of "WriteShop" 
Writeshop.com
Lee's book on transitioning homeschooled high school kids into college is informative, encouraging, motivating, and fun. I highly recommend this book to anyone homeschooling high school years, or considering it in the future.
~
Lorilee Lippincott
, Homeschool Mom and Author of "You Can Do it Too" 
YCDIT.com
Lee Binz skillfully guides the homeschool parent and student through the college prep maze with stories from her family's experience, encouragement, and a wealth of helpful resources that will relieve any parent's fear of the confusing path to higher learning. I recommend it!
~
Marilyn Rockett
, Author of "Homeschooling at the Speed of Life"
MarilynRockett.com
Whether your child is in kindergarten or high school, if you think college is going to be a part of his future, you need this book! I wish I had this book years ago. It's a resource you're definitely going to want to include in your homeschool library.
~
Heidi Strawser
, Homeschool Mom of 3, Senior Editor of Homeschool Mosaics.
Heidi-Strawser.com
Lee Binz provides "come alongside you" confidence to the parents of high schoolers, along with accurate information and encouragement. Are you planning life after high school with your homeschooled child? Lee helps you pack the college backpack with insights and action points for college success.
~
Christine Field
, Homeschooling Attorney and Author, Homeschool Legal Advantage.
RealMomLife.com
Lee Binz gives thorough, practical, detailed advice on preparing your children well for college and finding the college that will fit them best. Best of all, she is encouraging, not overwhelming. I wish I'd had this book before my oldest son started college; I'll definitely be consulting it with my other three!
~
Mary Jo Tate
, Editor, Book Coach, and Time Management Expert.
FlourishAtHome.com
This book is a wonderful, wonderful resource and one that will diffuse a lot of anxiety! I could feel myself becoming more calm as I read. It will encourage parents who are on the fence on whether or not to homeschool high school!
~
Lisa Keva
, Homeschool Mom of 4, Author of
Homeschool Circus
Lee has pulled from her vast experiences and shows you how to choose a college that will be right for your family, and how to pay for it by getting scholarships. She has done an exceptional job at breaking down all of the esoteric college jargon, and has in essence constructed a college road map.
~
Gerald McKoy
, Homeschool Dad of 5, Producer of
HomeschoolNetcast.com
A timely book for high school parents and students... offering practical advice and resounding direction! I highly recommend this book, because truly...nobody has the years of experience Lee does in this topic.
~
Shirley Solis
, Homeschool Mom to 6, Author, and Owner of
Lifetime Books and Gifts
Lee Binz provides you with a step-by-step guide that will help you prepare your child to face college not only academically, but spiritually with a strong faith. She blends valuable advice with scriptural guidance that will help you and your teen navigate the high school years and ease the transition to college.
~
Gena Suarez
, Homeschool Mom of 7, publisher of The Old Schoolhouse® Magazine.
TOSMagazine.com
Here you will find the help and the encouragement you need. Join the long list of parents who have successfully graduated homeschool students (I have two to my credit). You'll be encouraged and given practical advice to succeed.
~
Felice Gerwitz
, Homeschool Parent of 2, Speaker, Author, and Publisher.
MediaAngels.com
Lee Binz has done a phenomenal job writing a guide to help your child into college, with step-by-step ideas on making it affordable and do-able for most families! I cannot recommend it highly enough!
~
Lisa Baughn
, Homeschool Mother and Independent Consultant.
PamperedChef.biz/LisaBaughn
This book is a friendly, detailed, step-by-step guide not only for preparing your student but for effectively displaying them and their achievements to the right people in admissions and financial aid. We highly recommend it to parents and students -- it's eye-opening and confidence-building. Start early and read it thoroughly!"
~
Hal and Melanie Young
, Authors of Raising Real Men, Principals of
UniversityAdmissionsConsultants.com
I encourage parents to use all of the resources that you have made available! You have really made a difference in our lives and helped two young people achieve their dreams by helping their mom, so our family thanks you from the bottom of our hearts!
~
Cassie Fishbein
, Ohio Homeschool Mother with Two Homeschool Graduates
Lee Binz has a great wealth of information in this book, and she is dead-on about the fears many homeschool parents have entering the high school years and preparing for college. Let her help you navigate the waters of pre-college testing, scholarships, and transcripts.
~
Tami Fox
, Homeschool Mom, Director of Marketing, The Old Schoolhouse Magazine
TOSMagazine.com
Feel free to contact us with any questions regarding the book.
A press kit is available
, and you can read more about the book online here:
TheHomeScholar.com/CollegeAdmissionBook
Are you curious about The HomeScholar? Find out more
here
!
Stay Informed
When you subscribe to the blog, we will send you an e-mail when there are new updates on the site so you wouldn't miss them.
Comments
No comments made yet. Be the first to submit a comment