Why Teens Love The HomeScholar
It's ironic, really,  My children thought I was pretty tough on them.  But other people's teenagers seem to think I give great advice!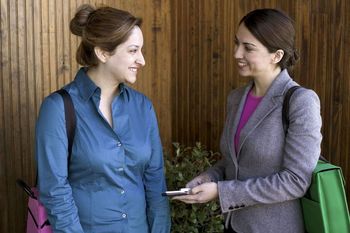 Sometimes I talk to "Type A Mom" who is trying to cover two entire English courses during the same year, or the mother who insists on 5 or more AP classes at a time.  My advice to lighten up, and adjust expectations can be a huge relief to teenagers.
Sometimes I talk to "Type ADD Mom" who is frantically working hard at absolutely everything under the sun, but getting very little done.  I can help them determine what is important, what to do first, and what to let go.
Sometimes I talk to "Type B Mom" who is trying valiantly to get her square-peg-child into a round public-school-hole. We talk about  the freedom of homeschooling, and adjust expectations according to the ability of their child.
Many time, and in many situations, and for many reasons, the end result is the same.  Less work plus more enjoyment, causing some very happy students. Sue wrote to tell me how happy her son was, so I'd thought I would share.
Hi Lee
Thanks for the great ideas yesterday.  I talked to my son, David, about some of the things you and I talked about. I told him that through my conversation with you I was "enlightened" to the idea that I can give him a grade of 100% on his daily work if he keeps reworking the things marked wrong until they are correct.  His response was, "I love that woman!"

Thanks again,
Sue
If things aren't working for your homeschool right now, take a step back and try to look at it from an outsider's point of view.  Are you doing too much?  Too little?  Are they working longer hours than a full time job?
If you need help, I'll be here for you!  As a reminder, my Gold Care Club members get up to 20 minutes of private email consulting each week.  Enough to get answers to their toughest questions and stay on track.  Check it out here: 
https://www.homehighschoolhelp.com/homescholar-store/homeschool-coaching-club

My Comprehensive Record Solution launches on November 29.  Learn how you can create homeschool records that win college admission and scholarships.
Stay Informed
When you subscribe to the blog, we will send you an e-mail when there are new updates on the site so you wouldn't miss them.
Comments
No comments made yet. Be the first to submit a comment