Paperless Homeschool?
Somewhere between hoarding and a sterile paperless environment is the perfect amount of high school records.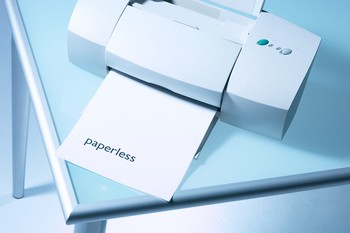 Laura wrote:
"Do you have any thoughts on student work typed and saved on the computer vs handwritten work?  I thought colleges would want to see examples of student's work in his own handwriting rather than work done on computer that theoretically could have been done by anyone.  I want to move my kids to a paperless (or almost paperless) school.  Will my children suffer as a result?"
It's possible to keep a vast majority of homeschool records on the computer.  Test scores can be recorded, evaluations listed, and papers can be saved in digital format on your computer.  We kept a computer file for each child.  Each child was responsible for saving their computer work into that folder.  It's still there today - MANY years later - and it's filled with wonderful memories for us!
But is paperless really enough?  No.  When you homeschool high school, it can get messy.
Colleges will want to see some examples of work in the students own handwriting.  A math test will do.  A lab report from science is great.  A paragraph written in French is good.  It's nice to have an English paper that includes comments from "the teacher" - yes!   That's YOU!
In my homeschool I tried to have at least one physical piece of work from each course on the transcript.  With some things, it was a  simple typed  report or paper.  Some parents have included menus and shopping lists from a culinary arts class.  My goal was simple.  If any particular college wanted  a work sample from any class, I was bound and determined to be prepared for that.  Knowing that most students apply to 6 colleges (some even more) I tried to keep enough just in case all the colleges happened to ask for the same thing.  I kept these items in neat and tidy 3-ring binders.  Yes, it wasn't completely paperless, but it wasn't a candidate for the "Hoarders"  show either.  It was a completely manageable amount, and I was able to keep everything to a single binder per child per year of high school.
When we applied to college, I was asked for some work samples:  math in their own handwriting, a graded English paper, a lab report.  I wanted to give the colleges whatever they wanted, because I was hoping for BIG scholarships.  I was glad I was prepared to provide work samples.
I hope that helps!

Homeschool records that open doors!  The HomeScholar Comprehensive Record Solution launches on November 29, 2010.
Stay Informed
When you subscribe to the blog, we will send you an e-mail when there are new updates on the site so you wouldn't miss them.