When "When he is old" has not arrived
Many parents hold firmly to Proverbs 22:6 as they raise their children. "Train up a child in the way he should go, and when he is old he will not depart from it."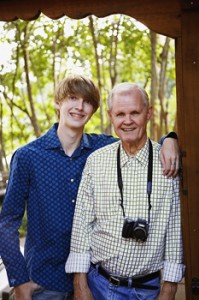 That's a wonderful promise.  It's great motivation to work hard as we train up our children to know right from wrong, and to make good choices.
But it says "When he is old..."  What happens before he gets old?  What happens when the child grows up, and is no longer a child that you are training, but he is also not yet old enough or wise enough to receive this blessing?
That, ladies and gentlemen, is when you TRULY learn about faith, and leaning on God.
In the sad news recently, we learned about a distraught and mentally unstable man who killed many people in an unexpected slaughter.  The conversation in the media quickly turned to the parents, as if they were to blame.  It's possible they did not train up their child in the way he should go.  But it's also possible they DID, and he chose the path of sin instead.
Is the parent at fault when their offspring decides of their own free will to disregard what they were taught?
It would be easy for a parent with younger children to become indignant, and think it will never happen that way.  But older parents know better.  Read this article and notice a small comment from a 70 year old parent: 
Parents of shooting suspect 'deeply sorry'  for victims
. The 70 year old neighbor spoke to the media and said, "I told them they didn't fail. They taught him everything about right and wrong," Smith said. "We all know you can teach someone everything and have no control how it works out."
If you are dealing with an adult child expressing free will, this book may help.  When Our Grown Kids Disappoint Us:
Letting Go of Their Problems, Loving Them Anyway, and Getting on with Our Lives
by Jane Adams provides warmth, empathy, and perspective. It's not a conservative Christian book, but it does provide support for parents in heartache.
Don't blame the parents for the actions of their adult children.  Blame sin nature that allows each individual the free will to choose right OR wrong.

Our monthly newsletter comes out on the first of every month.  Sign up for your free monthly newsletter here.
Stay Informed
When you subscribe to the blog, we will send you an e-mail when there are new updates on the site so you wouldn't miss them.
Comments
No comments made yet. Be the first to submit a comment