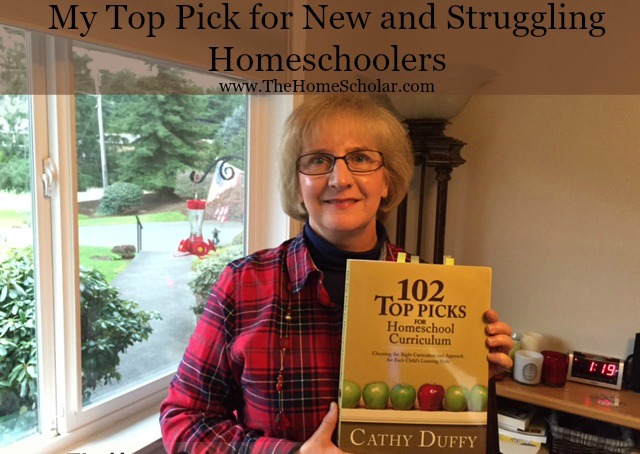 This post contains affiliate links. If you click and buy I may make a few pennies, but not enough for a latte.
Curriculum for New and Struggling Homeschoolers
You know what? I blame Cathy Duffy for my homeschool success, I truly do! She has been such an awesome resource for new and struggling homeschoolers for as long as I can remember. I strongly encourage you to have a copy of her Top Picks for your homeschool library and find out why this book is my top pick curriculum for new and struggling homeschoolers.
Homeschoolers often ask me, "Where do I get the curriculum?" This book is the answer. This is where you find the curriculum.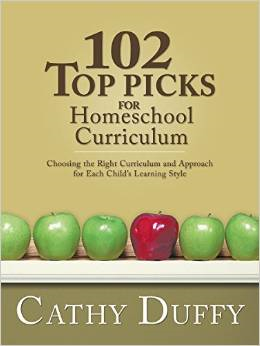 Choosing Curriculum
Choosing curriculum seems like a walk in the park for some families, but for others, it's just not as easy. The problem is that the answer to "Where do I get the curriculum?" is different for every family. There really is no single "homeschool curriculum" that we all use - because we are all different. And that, my friend, is why homeschooling works! We embrace our uniqueness! Each child has their own learning style, and each parent has their own learning style. The right curriculum has to take both into account!
First, this book will help you understand home education. It will talk you out of that "school at home" mentality that many homeschoolers have in the beginning. If you withdrew your child from any school, then school-at-home is not going to be a good fit! This book is perfect for new and struggling homeschoolers and will help you lighten up!
Second, this book will help you think through what kinds of home education will be a good fit for you and your child.  You will discover more than one approach - and a blend of approaches will often fit best.
Third, this book will help you identify your child's learning style - and your own learning style - so you can find a curriculum that will fit your needs together, as a family. This is so much more important than an artificial "grade level" designation that is completely meaningless when you are homeschooling.
And finally, this book gives clear, detailed, curriculum descriptions. It pulls no punches, and explains the pluses and minuses of each, within the context of your learning styles at home, which is perfect if you are choosing curriculum for new or struggling homeschoolers.
This book is so much more than just "The 102 best curriculum choices" as if choosing these will get you college admission and scholarships. Instead, this book addresses home education as a whole - and how to educate your children in a unique way that will make the difference.
102 Top Picks for Homeschool Curriculum by Cathy Duffy
I always recommend parents buy this book when they start homeschooling for the first time.
But even if you aren't a newbie, take some time to think through your curriculum choices. Even if you are secure in your knowledge as a homeschooler, if you find that one of your choices isn't working, you may need to make a curriculum change.
This book will help you make a change for the better, instead of dropping more money down the rat hole of un-ending curriculum choices.  Grab it! It's great! Cathy Duffy's book saved my bacon MANY times when I was homeschooling!