Moms Cracking Up
How many books have you started to read that you simply couldn't put down once you started them? Books so compelling that, in order to keep reading, you hid in the bathroom so no one could find you, told your children to do their math homework by themselves, and ordered pizza for dinner?!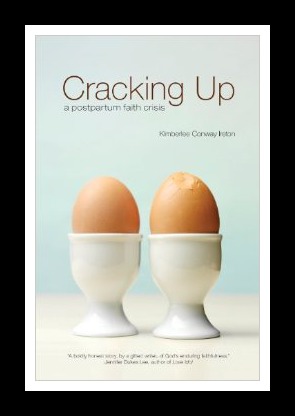 Amazing books like that are few and far between in my life, but I just found another one. It's called "Cracking Up: A Post-partum Faith Crisis" written by homeschool mom Kimberlee Conway Ireton.
As I read Kimberlee's story of life before and after the birth of her twins, I cried, I laughed, and I cried some more. But most of all, I marvelled at how God carried Kimberlee through post-partum hormones and six months of sleep deprivation, through her fears and feeble attempts to trust Him, through the darkness to a place of grace and healing.
Even if your early years with small children are now just a dim memory, "Cracking Up" will remind you of what really matters: community, faith, family (and sleep!). When I finished "Cracking Up," I found myself full of thanks for God's unfailing faithfulness and grace towards us. Order your copy today from 
Amazon
, but choose carefully when to start reading! You won't be able to put it down until you're done.
Reviewed by Jill Bell, Homeschool Mom and Editor at The HomeScholar
Stay Informed
When you subscribe to the blog, we will send you an e-mail when there are new updates on the site so you wouldn't miss them.
Comments
No comments made yet. Be the first to submit a comment