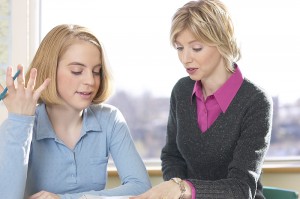 There may come a time when your child says they aren't interested in learning anything. If they seem disinterested in their studies for a while, try to incorporate more delight-directed learning into your homeschooling.  Delight-directed learning is all about fostering the love of learning in our children, creating lifelong learners who can adapt to any situation. It helps children find areas they are passionate about pursuing, and incorporates this learning into their education.
If your child is in this stage, and doesn't seem interested in exploring much, it might help to expose them to a variety of classes. Perhaps they will discover other interests and passions they didn't know they had.  Remember to keep margin time available, too, so that they have enough free time in the day to explore their interests. Sometimes allowing for that time might mean limiting TV and computer games. Of course, if computer programming is an area of their passion and delight, you could consider limiting computer and online gaming, while still giving them room to develop their passion. If you'd like more help in discovering and directing your child's interests, try my online resource, 
Delight Directed Learning.
As you use delight-directed learning in your homeschool, be careful not to teach your student what they already know, or subjects they are learning naturally as they enjoy their passion. For example, if your child loves writing novels all the time and that's all they want to do, don't purchase a curriculum for novel writing and make them study for an hour or two everyday.  If they love a subject, don't feel you have to create worksheets, tests, or grading rubrics to add it to your transcript. If you turn delight-directed learning into a subject or make it into something that your child doesn't like, sometimes they will backpedal and lose their love for that subject.
When all is Said and Done
To homeschool more effectively, include as much delight-directed learning as possible.  A fun learning environment does not make school easy, it makes it interesting and applicable.  When school is interesting, children will learn more and they will love learning more. Enjoy the benefits of delight-directed learning with your children, as they discover the passions and interests that ignite their hearts!

Homeschooling is NOT the same as doing schoolwork at home.  There is LOTS of freedom!  My Gold Care Club will give you all the help you need to succeed!