Capture Learning for High School Credit
You can put FUN on your homeschool transcript! Did you know that? It's such a freeing concept! High school credits created for fun will be the easiest your child will ever earn. Your children do something for fun, you count the hours they work, and give them appropriate credit on their transcript. Easy-peasy!
Capture Learning for High School Credit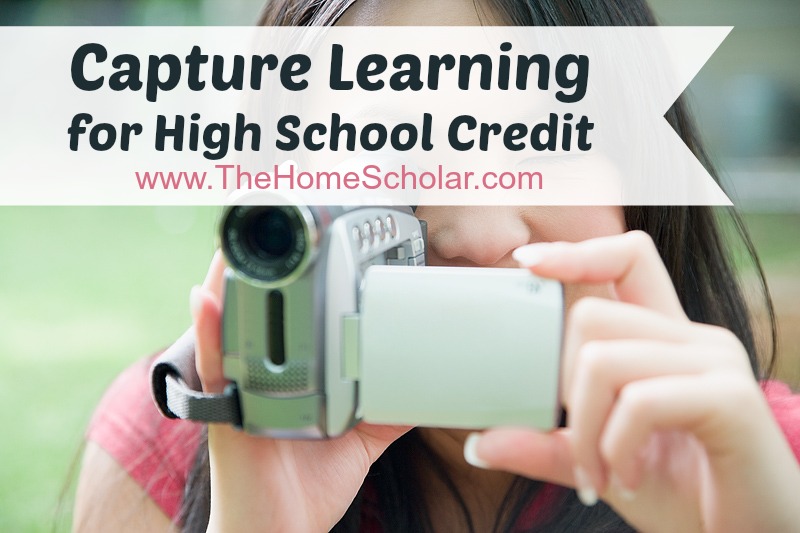 Evelyn wrote an example, so you can see how it works in real life....
I have been following your blog and newsletter for the past year. I was a Member and took your Total Transcript Solution course. We also had a phone and email consult with you regarding my 9th grade daughter, Audrey, who is very interested in the arts: drama, film, dance, creative writing, music.
I followed your advice of: delight directed learning and capturing learning for credits. The result has been amazing. Audrey is so enthusiastic about the new youth film group she has started with a fellow homeschooled teen--Fountain of Youth Productions.  Audrey has written a screen play, designed a website, learned about social media, studied film-making and editing, taken drama classes, written press releases, managed cast auditions, and created a promotional video. She recently initiated a crowd-funding campaign for their first movie project. All these activities, and more, involved skill-building in writing, business, computers, research, art, public speaking, and leadership.  Your Total Transcript Solution helped me see how to use all this on her academic record.






I think Audrey's video will inspire other parents of creative teens incorporate their passions into their high school experience and transcript.  Please feel free to share this with your blog readers.  

http://www.fountainofyouthproductions.com/.

 Audrey introduces herself at the opening. I can't believe she made this all herself. Talk about self-directed learning!





Thank you for your support, insight, and encouragement!




~ Evelyn in Massachusetts
This description that Evelyn has provided is the basis for a wonderful course description. It's just a descriptive paragraph about what took place in the class, and that's what a course description is! Encourage your children to LOVE learning, and grab credits where you can!
What are your child's interests? Have you captured them as credit on their high school transcript yet? Please share!

Please note: This post was originally published in March 2013 and has been revamped and updated for accuracy and comprehensiveness.
Homeschooling is NOT the same as doing schoolwork at home.  There is so much freedom in homeschooling! My
Gold Care Club 
will give you all the help you need to succeed!
Stay Informed
When you subscribe to the blog, we will send you an e-mail when there are new updates on the site so you wouldn't miss them.
Comments
No comments made yet. Be the first to submit a comment