Mastery vs. Perfection
I receive many questions from homeschoolers about math. This one is about mastery vs. perfection when it comes to math.
Mastery vs. Perfection
Dear Lee,

Thank you very much for sharing so much with the rest of us homeschoolers! I have a question regarding carelessness.  Using math as an example, my 12 yr. old son is working out of Saxon Algebra 1 currently and is understanding everything very well but gets a few wrong (2-4 on average, occasionally up to 6) due almost always to carelessness. He will work the incorrect ones over again and get them correct and truly understands what he did wrong. However, I have decided to cut him back to working only half a lesson in the hopes that he will take his time and strive for 100 percent and if he does not score a 90 percent or higher then he has to re-do the half-lesson over again until he achieves this. What are your thoughts on this?? He is definitely heading in the direction of engineering and I know how important it is for him to be careful.

Thank you for your thoughts,
Theresa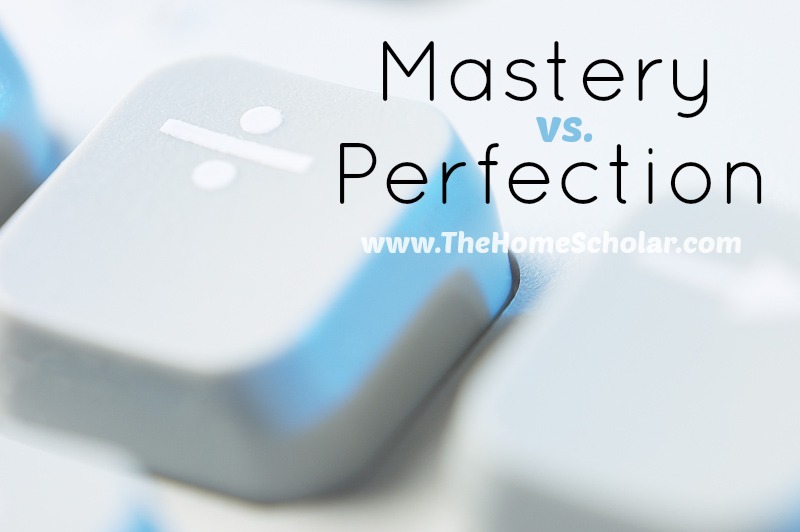 Carelessness, especially with math, is a complicated subject.  Homeschool parents want their kids to do well, understand a subject and achieve mastery. We want our children to learn about hard work and the benefits of doing a job well. But there is another side to carelessness that we have to consider.
When I subtract a purchase in my checkbook, I don't always get the answer perfectly right. Sometimes I slip up, get the answer wrong, and have to search until I find the arithmetic error so it balances again. Yet I do believe I have achieved mastery over subtraction!
Mastery is different than perfection. Your child may demonstrate mastery by scoring 90% on an assignment (you may consider they have mastery with less than that). They shouldn't be required to be "perfect" though. To be honest, I did have my children correct all their math errors in their daily work.  When they got it wrong, they corrected it. Like you, I was hoping the tediousness of correcting would encourage them to be more careful in their daily work. Just don't jump from requesting being "careful" to expecting "perfection." Striving for perfection can cause strife and possibly rebellion, because we all know, intuitively, that we simply can't be perfect.
I understand this situation, because I have a math and engineering loving son. I like the idea of holding your child to a high standard of 90%. I like the idea of assigning half the problems so he has time to be more careful. I like the idea of re-doing any problems he misses. Just make sure you steer clear of perfection, and strive instead for mastery. Tell your son that 90% is what you consider mastery.
Do you strive for mastery in your homeschool? Are you frustrated by a child who is careless in his work? Please share!

Please note: This post was originally published in March 2009 and has been revamped and updated for accuracy and comprehensiveness.
See those cute buttons at the bottom of these blog posts?  Those are there to help you share helpful posts with others who might need encouragement.  Go ahead and give it a try.  I promise that nothing will blow up!
Stay Informed
When you subscribe to the blog, we will send you an e-mail when there are new updates on the site so you wouldn't miss them.