Amazing Records! A Model for Others!
Lisa was so excited to take her son to college this fall. I often hear stories of "Shock and Awe" and Lisa has a great one! The college loved her homeschool records so much, they asked to use them as an example for other homeschoolers!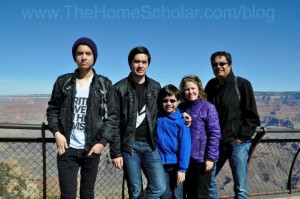 Dear Lee,

We dropped my son off at NU Wednesday. During the registration process, one of the check in location representatives stopped me and said,

"Your documents for your son when applying to NU were amazing. We would like to use them as a model for others, as they were really helpful for us and especially for homeschoolers!"

Of course, I followed the Comprehensive Record Solution that you provide, and heard about your success with the admission process.... but never expected to hear it for our own admission!

I believe that his homeschool accomplishments, along with his Comprehensive Record enabled to set him up for an amazing start for his first year of college. I did add at the end of the record a one page summary of his international service and also added the CD that his band produced (attached in a zip pocket). So that was super fun to be able to customize it to make it a little bit of a portfolio as well.

After auditioning for a talent scholarship, he was chosen to be the pianist for the Northwest Choralons and received above the maximum for the talent scholarship. We used many of the things you modeled in the Comprehensive Record for a music resume that we supplied to each audition at colleges he applied for. He actually received a percentage higher scholarship money from another university, but the program at NU in the recording arts is much stronger.

Thank you AGAIN for a wonderful resource and training you provide to help us along the way. I would love to give everyone a vote of confidence for you!

Thanks!

~Lisa in Washington
Don't be nervous! Just translate your wonderful homeschool into information the colleges can use. Remember, don't change what you are doing, just translate it into the "foreign language" of grades, credits, and course descriptions.
Do you have an encouraging story about homeschool records?
Stay Informed
When you subscribe to the blog, we will send you an e-mail when there are new updates on the site so you wouldn't miss them.
Comments
No comments made yet. Be the first to submit a comment