Prepare Your High School Student


For Their College Launch!
9 Tips for Homeschooling Junior Year
1. Take the PSAT
The first tip for homeschooling junior year is to take the
PSAT
. Register your student to take the PSAT in October of junior year. For many students, this test is for fun; an opportunity to practice group testing. The PSAT is an opportunity to take a timed, fill in the bubble test in a room filled with strangers, in an unfamiliar public or private school. It teaches the soft skills necessary to score well on tests as they gain experience taking a standardized test in a cafeteria with hundreds of sick, unruly, unkempt teenagers.
For the ultra-awesome test takers, the PSAT is also the one and only opportunity to be considered for the National Merit Scholarship. If your child is likely to become a National Merit Scholar, they may want to study for the PSAT before taking it. There are no second chances, so don't let them miss the test.
Learn more here:
Take the PSAT for Fun and Profit

2. Attend College Fairs
Tip two for homeschooling junior year is the attend college fairs. College fairs are like homeschool conventions, with booths filled with college representatives and classes with learning opportunities. Your child can take classes on college admissions, financial aid, and test preparation. You can speak to hundreds of colleges in one location quickly, to find out if any might be a good fit.
Check out these links to find a college fair near you and put them on your calendar:
NACAC National College Fairs
and
National Christian College Fairs
. You may find additional college fairs by googling the major city near you.
Learn more here:
3 Steps to Finding a College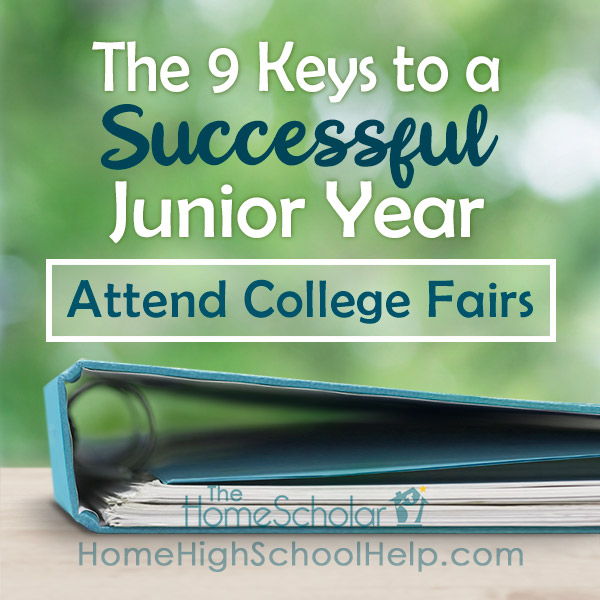 3. Prep for Tests
The third tip for homeschooling junior year is to plan time to study for college admission tests. Start by carefully choosing between the SAT or ACT, by giving a sample timed test at home. Compare scores by percentile ranking to find out which test is best for your son or daughter. Then choose test prep materials specific to that test.
Prepare for the test throughout junior year. You may want to you read through Cracking the SAT or Cracking the ACT by Princeton Review for test-taking strategies. Use real tests from Princeton Review or your test company for the remainder of your child's prep. Complete one timed section about 3 days per week. Complete one timed essay at least once per week. Once a month, give your child one full-length timed test to practice for the marathon-like aspect of a half-day test.
Learn more here:
How to Ace the SAT or ACT
4. Decide on AP and CLEP Subject Tests
Tip four for homeschooling junior year is to decide on which subject tests you will need to take. Some colleges require subject tests for admission. Some families need scholarships and are committed to exceeding college admission requirements. Junior year is the time to find out if your college choices require these additional tests so your child is prepared to take them in the spring. Read about these tests and decide which one, if any, is a good fit for your homeschool.
Learn more here:
High School Subject Tests Simply Explained
5. Compare College Statistics
Tip five for homeschooling junior year is to research each college to compare their statistics. You need to know what test scores and GPA they expect. Learn what percentage of students they usually admit. You want to know how many years it takes the average student to graduate. Learn what percentage are employed when they graduate and what percentage can get into graduate school. It's helpful to estimate the average financial aid and cost of attending, for comparison.
Learn more here:
Guidance Counselor Pro Tip: Read College Statistics
6. Visit Colleges
The sixth big tip for homeschooling junior year is to visit all colleges where your child chooses to apply during the spring of 11th grade or earlier. Colleges are looking for an elusive characteristic called "demonstrated interest" or proof that the student wants to attend and will enroll if given admission. This means your student needs to visit the college. You can take virtual tours and meet with graduates and representatives from colleges without leaving home, yet there is no substitute for a college visit. Once you narrow your list, try to visit as many potential colleges as you can while classes are in session.
Parents are looking for a perfect fit college for their son or daughter. Colleges always show off glossy full-color promotional materials spouting their awesome statistics, but they do not give the full story. The only way to know a college is a good fit is by visiting.
Learn more here:
Visit Colleges in the Spring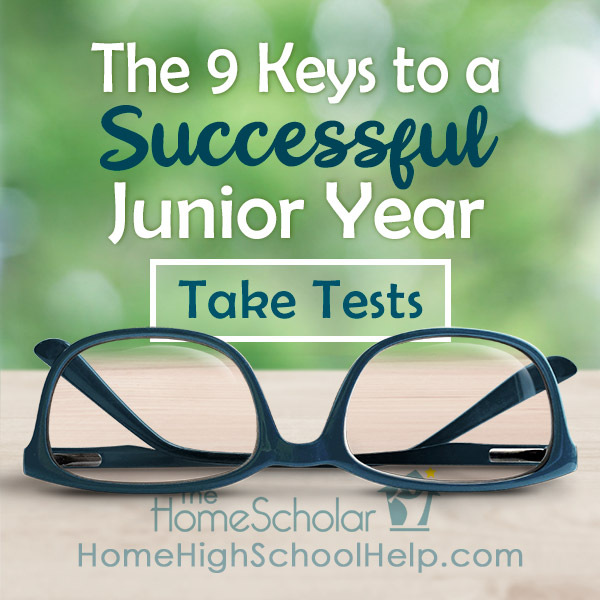 7. Take Tests
The seventh tip for homeschooling junior year is to take either the SAT or ACT twice in the spring of junior year. Two sets of scores will help ensure that one score is optimal. It also allows colleges to super-score. Colleges will look at each sub score earned each time your child takes the test. They will choose the highest subscore of each test, rather than the highest overall test score. If a college does super-score tests, it can improve your child's statistics, improving the chances of college admission.
Be prepared with any subject tests needed as well. Know what each college wants and make sure your child takes those tests when you are sure they can excel. Keep track of test dates, registration deadlines, and when to expect the results.
Learn more here:
Super-score to Improve Scholarships
8. Choose Colleges
Tip eight for homeschooling junior year is, by the end of the year, to choose 4 to 8 colleges where your child will apply. Choose both public universities (which have a lower sticker price) and private universities (which often offer much higher scholarships.) A private university may offer far more financial aid than public schools and can sometimes be less expensive than a state school. Choose some "safety" schools, where you are confident of admission. Some should be "fit" colleges, where your student's test scores are a perfect match. Also choose some "reach" schools, where it would be a real stretch to be admitted.
Learn more here:
Reach, Fit, and Safety Simplified
9. Prepare Records
The final tip for homeschooling junior year to to make sure you have the necessary paperwork ready for college applications. It's hard to know exactly which records will be required for college and career, so you need to be prepared for anything. The minimum requirement is a homeschool transcript. It can be extremely helpful to also create a reading list, activity and award list, and detailed course descriptions.
Make sure your student has the necessary classes. Cover the core with 4 years of English, 4 years of math, 4 years of social studies, and 3 years of science. Make sure your child's education includes 2 to 4 years of foreign language, 2 years of P.E., and 1 year of fine arts. Include the 3 critical electives: those required by state law, those required by the parents, and any the child works on for fun. Plan to fill any gaps within this general college prep plan.
Learn more here:
How to Make a Homeschool Transcript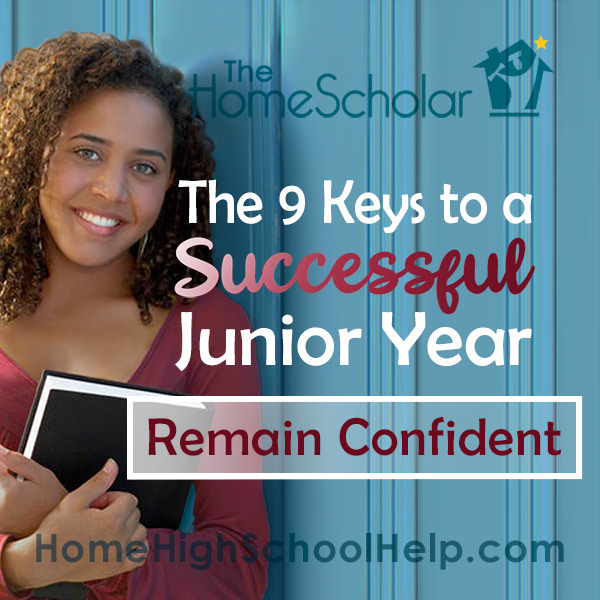 Confidence to Continue Homeschooling High School
You are a great high school
guidance counselor
! I know it can be scary when your child is a high school junior. You may wish you could use a school guidance counselor to take control, but that's a poor alternative to a loving parent.
You can do this, because you are your child's best guidance counselor. Nobody else truly loves your child and wants what is best for your child's future or understands your family finances and appreciates your educational goals for the future. No other guidance counselor shares your family values. Your love for your child will ensure success. You can find the information you need when you need it. And can be hands on and in the game without being overpowering.
Plan, don't panic. Planning ahead can make a huge difference in the cost of college. I remember meeting with my financial planner last year. He was so impressed with my sons getting full tuition scholarships. This is what he told me.
"My daughter is going to a private school and wasn't given any scholarship money at all, and it's incredibly expensive. I found out recently that she was a candidate for a full scholarship based on her SAT scores. She didn't apply in time, and didn't list that college as her first choice, so she didn't get any financial aid!"
What an incredibly sad story, to go from full scholarship to no scholarship at all! But he dropped the ball and left all responsibility up to a teenager. You can do better. Learn about each college and plan for success in 11th grade, and make sure you apply on time during senior year.
You are a home education professional and the expert on your child. Now that you've read this entire article, you know the tasks of junior year! I would love to come alongside to help you during this complicated time. Consider the College Launch Solution for encouragement, training, and support along the way.