Get Help with


High School Testing NOW!
Take the PSAT for Fun
The name PSAT means the test is preliminary, practice, or pre-SAT. Your child can take the test for practice in 10th or 11th grade. I call this taking the test "for fun" because scores don't matter. The results are only for you, with no negative repercussions at all. You can use it as a starting point, before your child studies for the SAT and provide firsthand practice for the SAT. It is also used to estimate your child's SAT scores.

The PSAT measures math and evidence-based reading and writing. Each section is given a score of 160 to 760, with a total possible score between 320 and 1520 (prior to 2015, there were three sections with each scoring 20-80). Math makes up half the total score, and reading and writing make up the other half. The results are a good predictor of your child's future score on the SAT, even though the total possible score is lower than for the SAT. Knowing what score range your child is likely to attain on the SAT can help you find a college that will match your child's academic rigor.

The PSAT also provides practice taking standardized tests in a rotten environment. In a sea of contagious diseases, surrounded by tattoos, body piercings, and smelly teenagers, my sons sat in alphabetical order in a public school cafeteria. Certainly not a perfect situation for a test, but it was definitely good to see the setting of the SAT before the test score counted! Taking a timed test around strangers is difficult. It's more difficult when you haven't practiced first. The PSAT can provide practice taking a test in less than perfect, non-homeschooling conditions.
Comparative Function of the PSAT
Taking the test for fun gives you a percentile score, which compares your student against other bright, college-bound students of the same age. One of the few drawbacks of homeschooling is that you can lack a sense of where your child fits in the norm. You know perfectly well your student's foibles and weak areas, but often don't realize exactly how smart they are compared to the rest of the gene pool. This test can be a startling reminder of how efficient and effective homeschooling can be! Even struggling learners in a homeschool environment will often test average or above in standardized tests that compare them to other high school students.

The comparative function will also give you a helpful "data point" for your student if they simply do not test well. Nobody is perfect, and of course, there are students who won't test well, even though they are quite bright. Taking the PSAT for fun, without the risk of negative repercussions, can help you determine whether to use standardized test scores at all when applying to college. If your student does very poorly on the test, you can decide to use other methods to document your homeschool achievement.

Based on the "for fun" score, you can submit a portfolio instead of a test score. You might also decide to enroll your child in community college courses to prove college readiness. More options will be available when you have this information.

The test is good for comparison because it's standardized, which means that states requiring a test from homeschoolers will often accept the PSAT. Better still, it is an inexpensive test, so you can save money by using it. As far as tests go, the PSAT is a cheap way to meet your state's requirement for annual testing. In Washington State, for example, it's the best value for testing in 10th and 11th grades.
College Search Function of the PSAT
If you check "yes" on the Student Search Service section on the PSAT to allow colleges to see information about your student, you'll be well on your way to starting your college search. This is a good thing, because colleges will start marketing to your student. You can find out about great colleges this way - perfect fit colleges you otherwise may not have considered. Yours could be the student they want! They may be looking for a homeschooled student in Oregon who wants to be a doctor, or may be willing to take any student from North Dakota, merely to get another state represented at their school. The Student Search can tell you which colleges want your child. By the end of junior year, you should know where your child wants to apply, and it can help to request that interested colleges mail you information.

Make sure your student fills out the student information section as well. They will be asked questions about what classes they have taken in high school. Since homeschoolers rarely talk about that sort of thing, sometimes kids don't have a clue what courses they have taken, or what grades moms intend to give them.
PSAT™ 10 for More Practice
The
PSAT™ 10
is the same test as the PSAT. The purpose of this test is to provide more practice. It's strictly optional and not helpful for all children. For more practice, the
PSAT™ 10
is offered in February or March of tenth grade only (the "10" part of the test). Like the PSAT, your child will receive score reports, which can help direct further study on Khan Academy and help steer your child toward appropriate AP tests if you desire.
Since students already take the PSAT twice, once in 10th grade and once in 11th grade, I do not suggest taking an additional practice test with the
PSAT™ 10
. Over-testing in a real situation can increase the stress level of children, as we sometimes hear about from our public school counterparts. I don't believe it's necessary to add a third time in the form of the
PSAT™ 10
. However, if you believe your child needs more practice or would like more practice, in a real test situation, then do what's best for your child.
Take the PSAT for Profit
The second part of the name of this test is NMSQT. Although people rarely refer to the test this way, it indicates that the test is "for profit." This acronym stands for National Merit Scholarship Qualifying Test. If you have heard of a student becoming a "National Merit Scholar" or "National Merit Commended Student," this is the test they took.

It's national because everyone can take it, even homeschoolers. It measures academic merit, meaning that a good score and quality academics will get your child considered for the scholarship. Students who earn the National Merit Scholarship are awarded financial aid for college. It's a qualifying test because it's the beginning of the scholarship process; first your child takes the test and then there are other hoops to jump through. The test can lead to other scholarships.

Only juniors can take the test for profit. Although younger students can take the test for fun, only juniors' scores count for the NMSQT function of the test. Otherwise, the test is simply for fun. The sophomore year test does not count toward the National Merit Scholarship.

Since the PSAT is a practice test for the SAT, it can be for profit even if your child doesn't win the scholarship. College financial aid is often tied to SAT scores and anything you do to raise the score can save you thousands of dollars. Raising your child's score can be as easy as practice, practice, practice. Taking the PSAT is the best way to mimic the SAT test experience. It has the same environment, the same kids, the same noises, sights, and smells as the real test. Using it as a practice test can save you money on college.
National Merit Scholarship
The National Merit Scholarship is the best known high school scholarship in the nation, and the only way to win is to start with the PSAT test. Therefore, the single most important thing you can do to win this scholarship is to make sure your children take the PSAT in October of 11th grade.

Students are invited to participate in the competition based on their Selection Index from the PSAT, compared to other students within each state. The Selection Index is used to compare high school juniors within each state. Because each state is different, it's impossible to predict exactly how your child will compare. However, if your student's scores are above the 98th percentile on the PSAT, there is a possibility they may qualify for the National Merit Scholarship.

The National Merit Scholarship is a non-renewable, one-time award of up to $2500. Not everyone gets the whole prize amount, and some will get far less. When you compare the award to the cost of colleges, it doesn't seem like much. But the National Merit Scholarship can be a stepping stone to other scholarships.

Corporate-sponsored merit scholarship awards can provide additional money for some students. College-sponsored merit scholarship awards usually provide the most money. Colleges love to publicize how many National Merit Scholars they have on campus. College-sponsored merit scholarships can be very large, even full scholarships. Some colleges will only give their largest monetary award to a student who names the college as their first choice university, and will provide lesser scholarships to other National Merit Scholars. On the other end of the spectrum are colleges that provide special scholarships to any National Merit participants, not only the winners, including Commended Students and Semifinalists.
National Merit Scholarship Process
The National Merit Scholarship competition is a long, drawn-out process, lasting over a year. PSAT scores are available a month or two after the child takes the test. The competition is based on the Selection Index score of high school juniors. The Selection Index is the sum of all three sections of the test: reading, writing, and math. Although you can clearly see the Selection Index on the PSAT score report, you can't tell how your student did in comparison to the other students across your state, so you won't immediately know whether they will advance in the scholarship competition. Scholarship participants are chosen by state, so students are only compared to other high school juniors

Although you receive PSAT test scores during junior year, it's not until the following August or September of senior year that Commended Students are notified, and for them the competition has ended. Later, some students will be notified they are Semifinalists, and for them the competition continues. Semifinalists must complete a detailed scholarship application demonstrating the academic rigor of their education. They must take the SAT test, which will confirm the validity of their PSAT performance, and their SAT score must be reported to the National Merit Scholarship Corporation. Homeschoolers have become National Merit Scholars, and parents must play the role of school administrator, providing documentation of a rigorous education through well-documented record keeping.

Fine print details abound. The PSAT only counts toward the National Merit Scholarship Competition during the third year of a four-year high school, which is usually junior year. However, the administrators do understand that bright and gifted kids sometimes graduate early.
Planning for Success
If your child tends to score in the 90th percentile or higher on standardized tests, there is the possibility of winning these awards. There are also things you can do to increase your child's chances of winning. Have your child take the PSAT in 10th grade for practice, so they are comfortable with the test-taking environment. During 10th grade, have your child study for the PSAT regularly, teaching the skills of reading, writing, and math in the context of test preparation. Familiarity with the test can increase test scores. Plan to complete geometry before sophomore year or earlier, if possible, to maximize the score on the math section. Carefully notice the deadlines at your testing site to register for the PSAT, so you don't miss it. Make sure your homeschool records and course descriptions are up to date, so you can demonstrate academic rigor if your child advances to the Semifinalist stage.
The complete process of winning a National Merit Scholarship can be a bit complicated, and the information here can only provide an overview. If you are notified that your child is a Semifinalist, immediately spend time doing research. For general information on the
PSAT
, go to www.collegeboard.org. For detailed information on the PSAT, search
professionals.collegeboard.org
and read the
PSAT/NMSQT®
Supervisor's Manual. For general information on the National Merit Scholarship, go to their website,
www.nationalmerit.org
and read their information about entering the competitions.
National Merit Scholarship Planning Timeline
October 10th grade – take the PSAT for fun and practice
May of 10th grade to September 11th grade – register for the PSAT
October 11th grade – take the PSAT for the National Merit Scholarship
December 11th grade – scores available
Spring 11th grade – take the SAT
September 12th grade – Commended and Semifinalists are notified
October 12th grade – parents must complete the application
December 12th grade – SAT scores must be submitted
February 12th grade – finalists notified
March 12th grade –National Merit Scholarship
April 12th grade - corporate-sponsored scholarships awarded
May 12th grade – National Merit Scholars are notified
Summer after 12th grade – scholarship awards announced to the media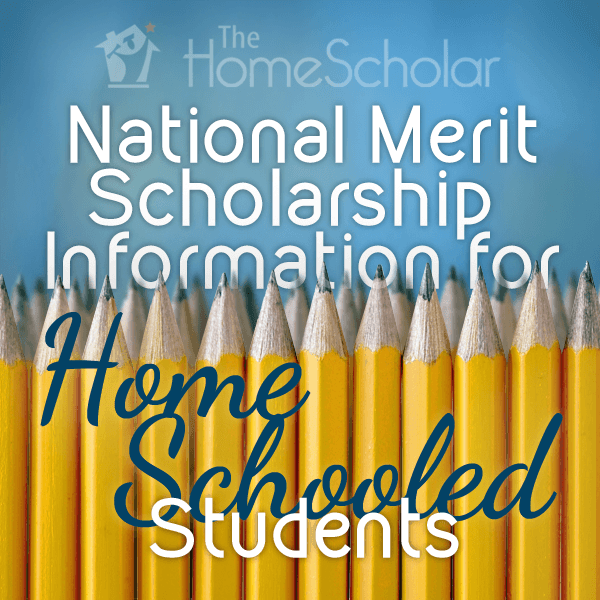 If a Student Misses the PSAT/NMSQT®
Sometimes in her heart of hearts, a mom will know that her child could qualify for the National Merit Scholarship. If this describes you, what do you do when your child misses the PSAT? At this time, there is a way to apply for the National Merit Scholarship even if your child has missed the test.
A student who does not take the
PSAT/NMSQT®
because of illness, an emergency, or other extenuating circumstance, but meets all other requirements for National Merit Scholarship program participation, may still be able to enter the competition. The student or a school official must write to the National Merit Scholarship Corporation (NMSC) as soon as possible after
PSAT/NMSQT®
administration to request information about procedures for entry to the competition by alternate testing. The earlier NMSC receives the written request, the greater the student's opportunities for meeting alternate entry requirements. To be considered, a request must be postmarked no later than March 1st following the
PSAT/NMSQT®
administration that was missed. NMSC will provide alternate entry materials, including an entry form that requires the signature of a school official.
This can only work in cases of serious emergency, though. Simply missing the test is not enough to enter the competition. If you plan to request an alternate entry this way, follow their directions carefully, and be exceptionally clear and concise. Good luck!
Register for the Test
Schools sometimes register kids in June, before classes end for the summer. Other schools register for the test during the first week of school. It's easy to access as a homeschooler, but you must be mindful of the registration deadline, as it is early in the school year. On the
College Board® web page
for homeschooled students, you can search for a school offering the test.
Find a school first, but then call them right away. The test is only offered once each year, and it's easy to miss if you put off the call. Simply say, "I am a homeschool parent. How can I register my student for the PSAT at your school?" The person answering the phone may not be familiar with homeschool parents, so ask to speak to the principal or guidance counselor first. The
College Board®
says: "If you are a home-schooled student, contact a principal or counselor at a local public or independent high school to make arrangements to take the
PSAT/NMSQT®
at their school. Be sure to do so well in advance of the mid-October test dates, preferably during the previous June."
Study for the Test
I rarely suggest that your child study for the PSAT. Instead, I like to think of taking it as the starting point for studying for the SAT. But for some students, it makes sense to study for this test. If your child has a good chance of earning the National Merit Scholarship, for example, then studying for the PSAT might be that little extra they need. For an anxious student, practice may help them feel comfortable with the "process" of testing.

If you want your child to study for the test, you can also find PSAT and SAT test prep books. I suggest one of these books (note: these are affiliate links. If you click and buy I may make a few pennies, but not enough for a latte.)

Review the Student Guide
When you register for the test, you will also receive one free official student guide to the PSAT, which includes a sample test. Make sure you read the guide, because it offers a lot of helpful information. The day of the test, your child will be required to fill in bubbles to enter their personal information before the test begins. They will request your email, so discuss whether or not your child should provide that. Below is a brief overview of some additional questions that you should discuss with your child:
"National Merit Scholarship" If you want your student entered into the National Merit Scholarship Program (which I recommend) fill in the "Yes" bubble.
"Optional Codes" Some schools have codes to identify particular information. Homeschooled students and students from other schools should leave that box blank.
"Student Search Service" Students have a choice to "opt in" to Student Search Service, which allows the College Board® to provide students' basic information to eligible colleges and universities, scholarship programs, and education opportunity programs. Information about disability, self-reported parental income, Social Security numbers, phone numbers, or actual test scores are never shared.
"Grade Point Average" There will be a box where your child can fill in a bubble next to their GPA. If your student doesn't remember their precise GPA, they should give their best estimate.
"School Code" This is where the students who attend public or private school will enter the code assigned to their school. Homeschooled students should fill in the bubble that says, "No, I am homeschooled." There is no longer a specific "homeschool code"
Lastly, the test may require that the student's social security number be filled in. Talk about this with your student.
One Simple Step a Day to Prepare for the PSAT #Homeschool @TheHomeScholarFor PSAT printable tips, check out the article, 2 Weeks to the PSAT. Place one tip on the breakfast plate each morning!
Need Additional Help with High School Testing?
This article is an excerpt from Chapter 2 of my Coffee Break Book,
High School Testing: Knowledge That Saves Money
. Regular price is only $4.49 for Kindle, and $7.95 for paperback.
SAT®, AP®, CLEP®, and SAT Subject Tests™ are trademarks owned by the College Board, which is not affiliated with, and does not endorse, this article or The HomeScholar, LLC.