How important is a foreign language? I don't know about you, but I'm not one of those people who naturally picks up foreign languages. I did learn some Latin along with my kids, but I had to study hard to stay ahead of them, and eventually I realized that they were passing me up no matter how hard I tried! I don't feel too bad, though, because there are many adults who don't know a foreign language. 
What about high school kids who want to go to college; don't they need a foreign language to get in? Well, it turns out that a lot of students are admitted to college without knowing a foreign language. In fact, some colleges don't have any language requirements at all, although others insist on foreign language study before they grant a degree.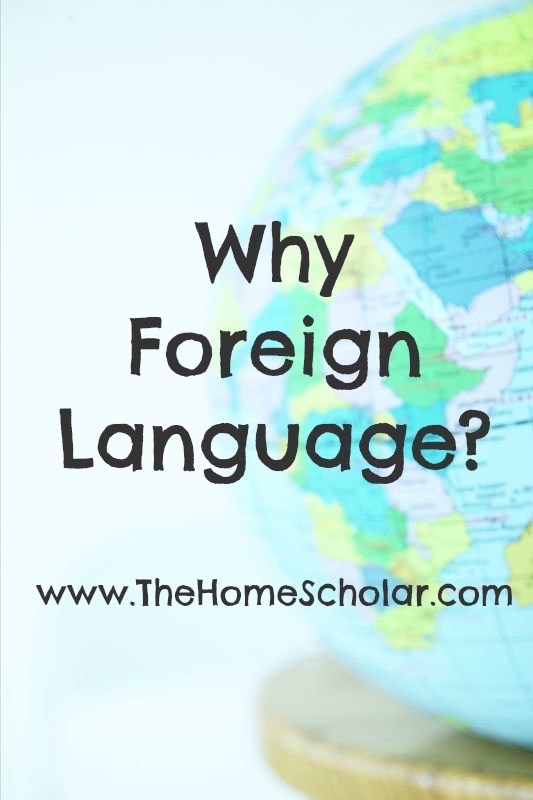 Why Foreign Language? 3 Important Purposes
Why foreign language if you can get away without it? I think that foreign language study can serve at least three important purposes.
1.
It's a wonderful way to learn about English grammar.
 If you study a foreign language in your homeschool, it will increase your child's knowledge of the English language. It will also help your child understand the differences between languages. For example, some languages use articles (the, a, an) and others don't.
2.
Learning a foreign language is great for critical thinking skills. 
There are some colleges that use foreign language competency to see how well your child studies and learns. They figure that if your child has the study skills necessary to learn a foreign language, they'll probably do well in college. In other words, they just like to see kids work hard.
3.
Not all countries speak English.
 In fact, one of the biggest complaints you hear about Americans is that they think everyone DOES speak English. One of the reasons for this "rude American" stereotype is the people who insist on speaking only English when they go to a non-English speaking country. If you want to interact with people in another country, whether as a guest or a missionary, speaking the language is considered the polite thing to do. Even if you just attempt to speak their language, it can make all the difference.
There are a lot of foreign languages to choose from! American Sign Language is even accepted at some universities, and it's a great language for kinesthetic learners. Latin is accepted almost everywhere, and can be a great fit for a logical, mathematical, or non-linguistic child. There are many ways to fit this subject into your homeschool coursework and make it a part of your child's high school experience. Try to make it fun!

Please note: This post was originally published in February 2013 and has been revamped and updated for accuracy and comprehension.
If you need any extra help, you will really appreciate my
Gold Care Club
, full of templates and tools to help you homeschool high school.