Hearts at Home Review of the Total Transcript Solution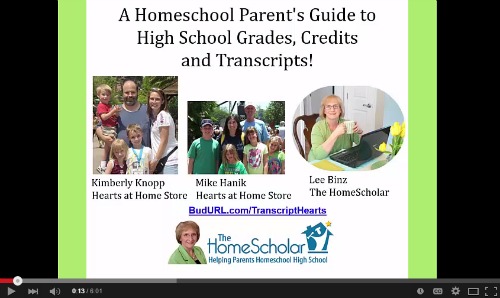 Hearts at Home Review of the Total Transcript Solution
Kim Knopp from Hearts at Home recently tried out my Total Transcript Solution. Check out the YouTube video below (
or here
) for Kim's review of the Total Transcript Solution!
Here is just some of what Kim had to say:
One of my biggest fears has been, "Am I doing this right? Am I going to be able to teach my children everything they need to actually be able to get them into college?" This product, The Total Transcript Solution, has helped ease that fear. I really do love it. I find that it's very simple. It's easy to use. It's straightforward, and my favorite part is that it's adaptable for every homeschool family. I don't have to change the way that I teach. I can be prepared for college without having to change anything at all about the way I'm teaching them now. This program has taught me not only how to start keeping useful records, but also how to use whatever it is we're teaching and whatever they're learning and make it look like what the colleges are wanting to see. Lee has figured that terminology out for us. That's one more thing off my plate and I always appreciate that kind of help. I feel like I'm sitting with another homeschool mom and we're just chatting and she's simply sharing what she's learned and that's because that's exactly what Lee's doing. She is a homeschool mom and she's been in our shoes!
I just love helping parents homeschool their children through high school!
Click here to learn more about the Total Transcript Solution
.
I also love hearing back from parents about how the Total Transcript Solution worked for them.
Have you used the Total Transcript Solution? Please share!

Subscribe to my YouTube channel.
You will be notified when I create new videos on homeschool high school topics!
Stay Informed
When you subscribe to the blog, we will send you an e-mail when there are new updates on the site so you wouldn't miss them.
Comments
No comments made yet. Be the first to submit a comment