Syl-la-bles Vocabulary Game Review
Looking for a game that both challenges and engages the multiple ages in your family?!  Wondering what you can do on Family Game Night that won't make the older kids yawn?!  Search no more; Syl-la-bles is the solution!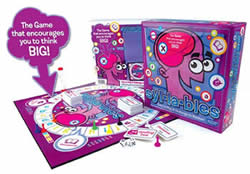 The object of Syl-la-bles is to come up with the longest and most difficult (correctly spelled) word that begins with the letter on the space you land. The longer the word, the more points you score. All ages and abilities can play, because the difficulty of the words is up to each individual playing the game.  One player can spell 'cat,' while another tries 'catastrophic.'  The game takes only a few minutes to learn, happens simultaneously (so no one gets bored waiting around), and players decide how long to play.
But there's strategy here too: each letter has a point value, and each syllable is worth 50 points, so you must decide whether to risk misspelling a long word to earn lots of points, or to play it safe by trying for less points.  The strategy is up to each individual player.
A few special spots on the playing board ('Synonyms' and 'Spelling Bee') offer more opportunities to learn about synonyms and spelling, so players will always be challenged and engaged.  As a parent who's always interested in including an 'educational' component in the games our family plays, I found Syl-la-bles to be a great way to have fun and learn together.

I am now writing for the "Seattle Homeschool Examiner."  You can find great
homeschool articles
when you visit my column!
Stay Informed
When you subscribe to the blog, we will send you an e-mail when there are new updates on the site so you wouldn't miss them.
Comments
1
Hey, here's an idea - let's use Latin words! Hee hee hee!