Many times music scholarships really aren't a scholarship at all.  They are really more like a WORK STUDY PROGRAM.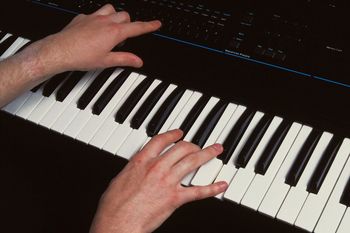 Music scholarships many require many hours invested in practicing and accompanying.  Students may spend hours playing music they don't like to accompany other musicians and singers.  This level of commitment may be required by a music scholarship.  A music scholarship may have relatively low monetary value, and may represent a work study program earning far below minimum wage.  If a college offers a large tuition waivers (full ride or full tuition) the music scholarships may not be worth it at all.
My son Alex loves playing the piano.  However, he didn't consider a piano major or minor, or scholarship.  He wanted to go into political science and take piano for fun.  He thought about a music scholarship, but at our university these scholarships were more like "work study".  The $3000 scholarship required about 10 hours per week, all year long.  That is a remarkably rotten hourly rate!  He took piano for fun every quarter while he was in school.
If you are thinking about a music scholarship, make sure you take a tour of the campus.  My son chose our university, in part, because it had a grand piano in every dorm and almost every building.  Music students need to spend some time looking at the music labs.  If you had a science major you would focus on the science labs, and these are just like a science lab that you have to look for and evaluate.  Even when using it "just for fun" those pianos can be important to kids!

That free month on the Silver Training Club that you get with the purchase of my Total Transcript Solution can can be your time to get some great homeschool high school parent training!  You even get 20 minutes of free phone consultation each week for the first month.  It is a great deal for parents who want to homeschool high school with excellence!