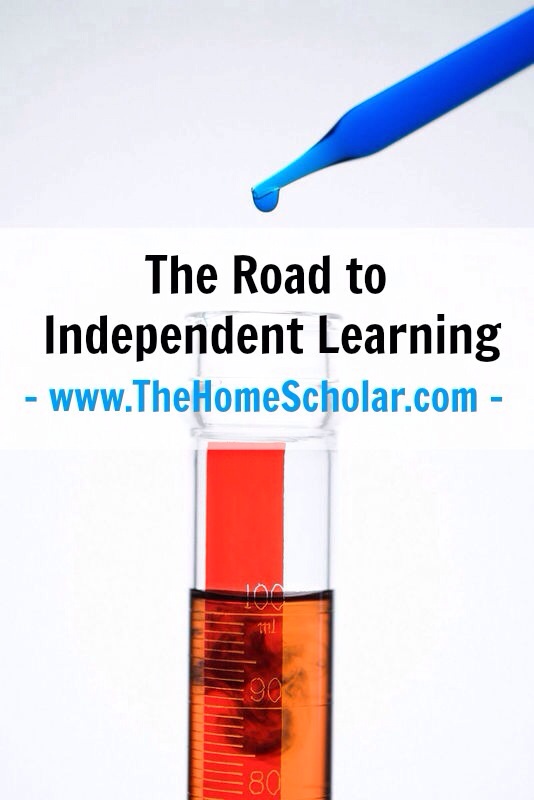 The Road to Independent Learning: Homeschool Science
Independent learning is a process, and being able to work independently on biology usually comes along early in that process. I've seen children successfully learn biology on their own, my own two sons included. I am happy to share how we did it - just remember that every child and family is unique.
We used Apologia Biology. I had a list of assignments that told my children what pages to read or what lab or test to complete, that I prepared in advance during the summer months. It was in checklist format, so I could easily see if tasks were completed and checked off each day.
Our morning meeting included biology, as I described in,
Homeschool Accountability – Try a "Morning Meeting
. During that meeting, I went over their vocabulary words, and would sometimes ask them questions found in the textbook (not very often - I didn't have it all together every morning). I think going over the vocabulary in advance helped the most. That's a tip I read once about college success; if you know the vocabulary words you can pass most college tests. Then they were responsible for reading each chapter on their own.
The labs were a little different. I'm a nurse, and I
love
biology. I loved every dissection and every microscopy lab. Sometimes I had trouble giving the microscope to my children to use, but I don't believe I taught them anything. I was merely present in the room when they did their experiments. With biology labs, kids are either working with expensive microscope equipment or are wielding sharp dissection tools; not wanting them to get hurt, I was always in the room. They read the labs on their own and followed the directions, and I watched - usually while getting some laundry folded.
Once the experiment was complete, I would leave them alone to complete a lab write-up. I asked them for a paragraph explaining what they did and learned, as well as a drawing, graph or chart explaining the lab. At the end of the day I would look at their lab report to make sure they truly had written a paragraph (not just a sentence) and had included some sort of chart or drawing. If those were present and I understood from their lab report the purpose of the experiment and the result, then I gave them 100%.
When it was time for a test, I simply handed them the test, confiscated the solution manual, and walked away. I corrected the tests while they began working on their next subject. I gave them a grade, wrote it on a piece of notebook paper I kept in their binder, and then had them correct any wrong answers.
My children were beginning independent learning. They did all the reading and I didn't lecture (except about how expensive the microscope was). They did the experiments with an adult standing by. Perhaps I did try to teach them how fun and exciting biology is, because I remember I did a lot of squealing, but it didn't work.  Of all the sciences, they liked biology the least.
I know other successful homeschool mothers who take a much more hands-on approach. Dealing with learning challenges, they read the entire chapter, or carefully assist their children in following directions for labs. It's important to remember to do what works for YOUR family. Some parents may want to judge others and call this "spoon-feeding." I think it's important to remember that some students will learn and thrive with one-on-one tutoring because of challenges that others don't understand, so do what works for your student, regardless of what others say or think.
Over the four years of high school, I became less involved each year. I found that chemistry didn't require as much help, so we didn't include it in our morning meeting. The labs were rarely dangerous, so many times I would just peek in. With physics I felt completely overwhelmed and I didn't understand any of it.  They worked completely independently on physics! Learning to become independent is a process that has to start somewhere and then build. You will know what your own child is capable of!
Does your child work independently on science? Do you find a certain science easier for them to work independently on? Please share!

Please note: This post was originally published in July 2010 and has been revamped and updated for accuracy and comprehensiveness.