Homeschool Introduction to Engineering Class
Homeschool parents of budding engineers, listen up! Engineering is a LOT of fun, but a future in engineering requires some math and science.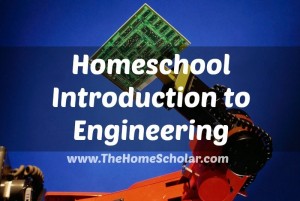 My 14 year old will be participating in the First Lego League in which he will 1) Build and program a small robot to accomplish challenges and 2) investigate a research topic then prepare a presentation. Both activities culminate in a competition with other teams at a regional tournament. This is to build science, engineering and technology skills.

My question is what exact subjects do I categorize this into: obviously science, but which science exactly and since he will be researching and speaking, would it be considered English or Social Studies as well? And how will this look on his transcript?

Thank you for your help.
~Esther in Washington
Introduction to Engineering Class
My son took a class much like that, an Introduction to Engineering class. He took it in COLLEGE. I would call your homeschool class "Introduction to Engineering." Use all of the experiences within the league as one single class to make it a big, beefy credit. At the end, estimate how many hours he spent on it. 120-180 hours is one high school credit. All the papers and speaking will be part of his science credit.
One word of warning: when kids like engineering, they do need to cover the basics of biology, chemistry, and physics while they are in high school. Engineering is more of an elective-science, and he will also need the core sciences in order to do well in college engineering. Science, engineering, and technology degrees also require a lot of math. Make sure you are working consistently on math every day during the school year, so a lack of math doesn't become an impediment later on.
Is your child a budding engineer? What does that look like in your homeschool? Please share!

Please note: This post was originally published in August 2010 and has been revamped and updated for accuracy and comprehensiveness.
Find me on Facebook!
Stay Informed
When you subscribe to the blog, we will send you an e-mail when there are new updates on the site so you wouldn't miss them.