The Major Theme of Each Year of High School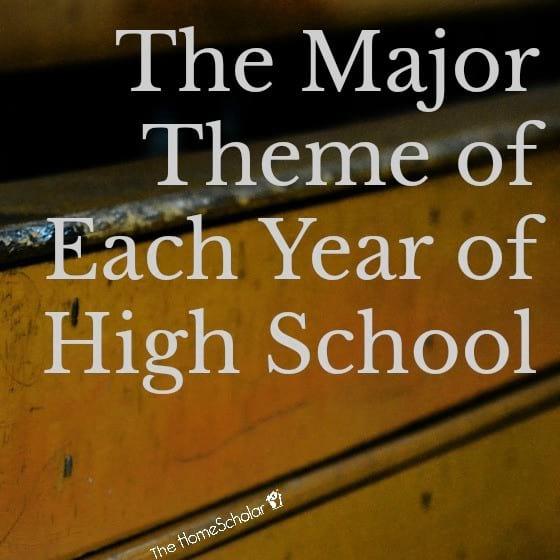 Preparation Prevents Panic!
Are you ready for high school? I know that many homeschool parents are intimidated by the thought of homeschooling through high school, and are unsure about how to plan for this final stage of their child's education.

These are the major themes and tasks for each year of high school -
Middle School – Grade 6-8th - think about high school

Practice keeping high school records
Provide time for remedial or advanced academics

Freshman - 9th grade begins at age 14-15 - think about college

Plan college prep classes at

the

child's ability level. Cover

the

core and more.
Put everything on

the

high school transcript

Sophomore - 10th grade begins at age 15-16 – prepare for college

Cover more than core classes. Be sure you have started foreign language
Take

the

October PSAT for fun - test prep if possible

Junior - 11th grade begins at age 16-17 - find a college

Fall: take

the

October PSAT. Attend a college fair.
Winter: test preparation - register for SAT or ACT in Spring
Spring: SAT or ACT test, subject tests if necessary - arrange college visits
Summer: decide on colleges to apply to, locate admission deadlines, put on calendar
Tip: write college application essays and scholarship essays for English class

Senior - 12th grade begins at age 17-18 - apply to College or Career

Fall: begin college application first day of senior year
Winter: complete

the

FAFSA for financial aid
Spring: choose a college to attend
Summer: complete

the

transcript, award a diploma, and celebrate graduation
Tip: write college application essays and scholarship essays for English class
You can homeschool through high school, and there are tools to help you.
​ Your Goals This Year: A Year by Year Guide to Homeschooling High School is part of The HomeScholar Coffee Break Books series. Designed especially for parents who don't want to spend hours reading a 400-page book on homeschooling high school, this series has easy-to-digest information, perfect to read over a cup of coffee at your favorite coffee shop! Never overwhelming, always accessible and manageable, each book in the series will you the tools you need to tackle the tasks of homeschooling high school, one warm sip at a time.
No matter which kind of homeschool parent you are, this book will help you understand the stages of homeschooling high school, put you on the path to success, and keep you from feeling overwhelmed. Spectacular homeschool success is within your reach!

​



Stay Informed
When you subscribe to the blog, we will send you an e-mail when there are new updates on the site so you wouldn't miss them.
Comments
No comments made yet. Be the first to submit a comment