Is The HomeScholar for Canadian Homeschoolers?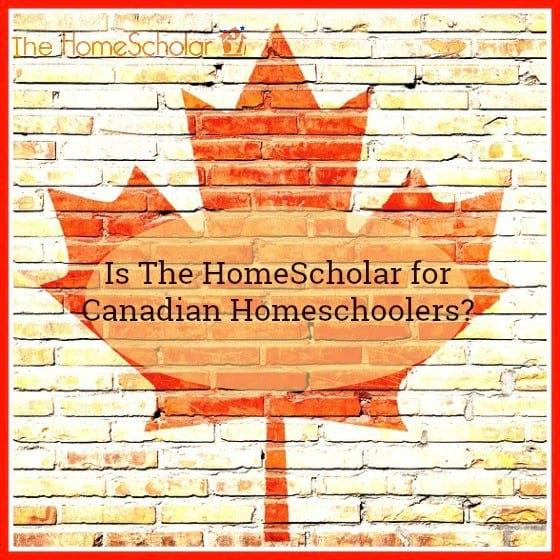 Quite a few Canadians have enjoyed my High School Solution! While applying for college is slightly different in Canada, the basics of homeschooling high school remain the same around the world. Just as we in the U.S. have to follow our individual state laws, I do suggest familiarizing yourself with your provincial homeschool laws. You can check out this article with links to all the Canadian provinces:Know Your State Homeschool Law.
I am asked quite a few questions about whether my products are helpful for Canadians. So, to be sure I had accurate information, I asked my editor (who happens to be Canadian!) and this is what she had to say.
Are you Canadian? Me too! I have been a Lee Binz fan for many years, and have been eagerly sharing her resources on social media and in blog posts for the past several years. She and her website are a wealth of information on homeschooling high school and preparing for college or university!
I love Lee's book, Setting the Records Straight, which I bought in early 2013 to help with my son's high school transcript. Since then, I have enjoyed using Lee's products, including the Total Transcript Solution, Comprehensive Record Solution, and most recently, the High School Solution. This year, I will be getting started on my daughter's high school transcript as we head into her high school years.
The biggest difference you will find when reading Lee's materials is that people in the U.S. use the terms college and university interchangeably. Here in Canada, they mean two different things - college produces a diploma after one or more years of work and is generally cheaper, easier to get into, and usually more geared towards trades or a career, while university produces a three or four-year Bachelor's Degree in a specific major. However, the process of applying for college/university in the U.S. is similar here in Canada. As in the U.S., homeschoolers need to prepare comprehensive records because post-secondary institutions may require a homemade transcript, course descriptions, samples of work, reading list, activity list, and diploma.
The application process for universities here in Canada is usually much simpler and doesn't often involve writing admission essays. And students in Canada are not expected to take tests such as the SAT or ACT upon graduation. However, universities increasingly request the SAT for admission, and it isn't a bad idea to have the SAT or ACT scores as an example of outside documentation to universities besides what Lee calls your "mommy grades." If your child is applying to college, they often request a specific entrance exam, such as the CAAT here in Nova Scotia to get into the Nova Scotia Community College.
My son studied for the SAT in high school, but ultimately took the CAAT instead to get into the NSCC. But he decided he didn't want to go to college right now and is taking a gap year. My daughter is attending a ballet school starting this year and is planning to attend George Brown College to study ballet once she graduates.
Is The HomeScholar for Canadians? Yes. You can absolutely use Lee's comprehensive record templates and information on earning scholarships and admission to benefit your homeschooled child here in Canada, as I have.
Love, Luck &
Laughter,

Kimberly Charron
Kimberly blogs at HomeschoolinginNovaScotia.com and GeekSchoolingGuide.com and has been working with The HomeScholar as an editor since the fall of 2013.

I hope this helps answer some of your Canadian homeschool high school questions! Are you Canadian? I would love to hear from you!
Stay Informed
When you subscribe to the blog, we will send you an e-mail when there are new updates on the site so you wouldn't miss them.
Comments
No comments made yet. Be the first to submit a comment