Other parents think you have it made.  They are jealous of your student's math ability, and amazed that you can successfully teach math at home.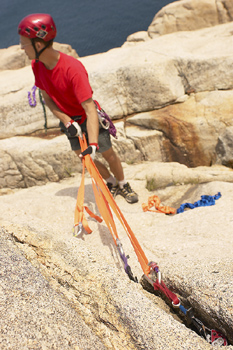 Ha!  If only they knew you were hanging on by a thread!
The truth is that often the STUDENT is a math geek, and the parent would rather be ANYWHERE else but studying math, even hanging off a cliff!  For that reason, I've located some free resources for calculus.  These are free or free for a short trial period.  Some may fit your family and others not, but check them out.  Hey, at least the price is right - and it may be just the encouragement that your little Einstein needs right now!
http://www.khanacademy.org/#Calculus
http://www.brightstorm.com/math
http://www.themathpage.com/index.html
http://tutorial.math.lamar.edu/
http://www.explorelearning.com/index.cfm?method=cResource.dspChildrenForCourse&CourseID=131
http://www.quickmath.com/
http://www.sosmath.com/calculus/calculus.html
http://www.sosmath.com/cyberexam/cyber.html
http://cow.math.temple.edu/
http://www.midnighttutor.com/
Library resources are always free.  Ask your librarian about AP Calculus resources you can use, and the
Teaching Company
course called "Calculus Made Clear."
Finally, for a $30 hotmath.com membership you receive access to Thinkwell pre-calculus when you look under "videos"

Get a Free 20 minute weekly phone consultation with me as part of your Gold Care Club membership. http://www.thehomescholar.com/gold-care.php