How to Include Boy Scouts on a High School Transcript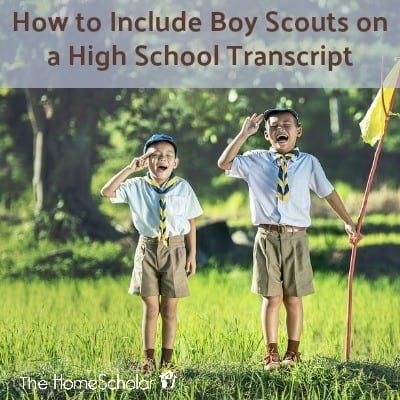 Boy Scouts, Scouting, and Eagle Scout is a great activity for homeschooled teens, and you can include it on your transcript in many ways.
Scouting as a PE Class
The easy way to include scouting on the transcript is to include 1 credit of PE per year. Often scouting will include many hundreds of hours, so no counting hours is usually necessary. It includes all physical activity, all outdoor activities (camping, fishing, etc.) and all sports (like marksmanship, etc.).
To grade scouting is easy. When your teen is working hard and enjoying it, give them an A. Give an A if they get to Eagle rank for sure, because they have really exceeded expectations at that point.
Give this class a descriptive class title. It may be easiest to call the class "PE: Personal Fitness" or "PE: Outdoor Education," your choice.
Create a course description. Look at the scout uniform and ask the child to name each badge. Each badge is like a "unit study" for that class. Each badge is like a list of topics that were included in your class. Instead of tests, use badges to evaluate learning outcomes. Each badge attempt gets a grade, and badge earned gets an A.
Scouting as an Activity
It's ok for scouting to be on the transcript AND the activity list When I was in high school, I was involved in Choir. I received high school music credit for the time I was in the class, but it was also listed as an activity on my transcript. My public high school included some classes on the transcript and the activity list.

Scouting as a Leadership Position

Scouting is significant, and becoming an Eagle Scout is a huge leadership position that you will want to emphasize. Colleges love to see applicants that have achieved the Eagle Scout rank, believing them to be more mature and capable of leadership positions on campus.
Scouting as an Elective
Not everything a scout does is PE. You can college the "non-PE" activities and badges to see if they might fit for occupational education, technology, or even a fine art class. Look over the badges earned, and use the "Sticky Note Strategy" to combine them into affinity groups.
Learning how to put Boy Scouting on a transcript is just a small piece of how you can make your homeschool transcript stand out from the crowd and earn scholarships. By following a simple step by step process in the
Total Transcript Solution,
I'll help you finish your transcript quickly and easily. It doesn't have to be scary - I can help!
Stay Informed
When you subscribe to the blog, we will send you an e-mail when there are new updates on the site so you wouldn't miss them.
Comments
No comments made yet. Be the first to submit a comment