Study Skills for Seriously Low SAT® or ACT® Scores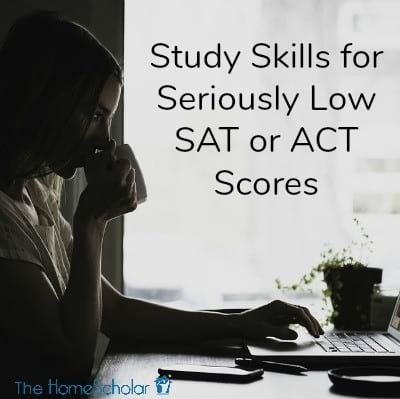 First of all, look at some colleges near you with low scores. Do a quick google search for your state and your test (SAT® or ACT®), like this: "colleges that accept students with low SAT® scores in Ohio." Here are the results for Ohio colleges that have pretty average test scores.
Getting into college in Ohio with a low SAT® score.
College Name SAT 25th% SAT 75th%
Central State University - Ohio 770 940
Wilberforce University - Ohio 800 1040
Urbana University - Ohio 900 1050
Wright State Univ Lake Campus 930 1070
That can help you realize that even without studying, there is a college that will fit. So when faced with a very low SAT® or ACT® score, you have two goals.
Study hard for the test.
Find a college that appreciates your scores.
Now let's talk about how to study for that test. Do a bit of test prep every day, in small reasonable amounts, trying not to overwhelm the student. Often a very low test score means they don't have the knowledge in some subjects to even answer the question. Your goal is to provide practice with the questions the student CAN answer, and a method of determining which questions the student should NOT attempt to answer.
Study plan for seriously low test scores.
Use a book with real test questions

Study

one page of one test per day (not one section per day as I usually recommend)

Study

3 times per week, if possible
Discuss, "should you answer this? How to you know?" Some of

the

questions aren't good to worry about. This discussion will help identify what NOT answer because it's a question about geometry or something completely outside the student's scope of knowledge
Have the student choose just a single letter to use as an answer for all questions that shouldn't be answered. Choose A, B, C, or D, so they always remember it, perhaps based on a letter in their name. For example, if the first name begins with C, choose

the

letter C. Any questions about geometry, put in the answer C. If the teen can't even guess at a question, the answers is C.
Write one quick essay per week. At first, it may be one day you brainstorm based on

the

prompt

and

the

second day he writes based on

the

prompt,

and

a third day he edits what he wrote. That's 3 solid days of good solid English instruction, so you really don't need a lot more English stuff on those days. Later on, you hope to have the pre-writing and writing done on the same day, timed.
Slow and steady like that, just a few questions at a time, will give the teen a little bit to be successful with each day.

Closer to test day, focus on what I call the "

soft

skills

" of test preparation, to help on the actual test day. These can make the difference between a slightly below average score to something much better.
Become Familiar with the Test - give your child at least one full length test at home, timed, for practice, and then one section of a test each day for familiarity.
Adjust Sleep Cycles - make sure your child starts to get to bed earlier and gets up early, so they arrive to the real test more rested and ready.
Review the Homeschool Transcript Together - so the pre-test questions don't freak out your teen and make them feel like they have failed before they have even begun.
Eat a Breakfast with Protein - good nutrition will see your child through this stressful event.
Drink Water - research shows hydration improves brain function, so have your teen drink water in the morning and bring a water bottle to the test.
Bring a Healthy Snack - so when your child's energy fades, they have a healthy treat to re-energize before the next test section begins.
No Candy During Tests - the sugar high and crashing

low

are horrible for test

scores

, so no sugar of any kind during tests.
Bring 4 Sharpened Pencils - no matter how many pencils your child breaks, their test score won't be affected.
Bring a Familiar Calculator - be SURE to bring a calculator, the one they use every day and feel comfortable with, NOT the new one you just bought.
Identify Pick-up Location - not even one brain cell should be worrying about how they will get home, all brain cells should be available for the test.
Locate the Bathroom - one simple bathroom break can destroy a test score if your teen doesn't make it back to their seat before the timer starts
Pick an Answer - have your child choose one letter of the alphabet to always use when they shouldn't waste time on a question, and always use that answer when they don't have a clue.
These are the books I suggest you use.
ACT® Preparation




SAT Subject Tests®

You may want to read together the first few chapters, so you can discuss it. Those books give great suggestions for other ways to increase a very low score.
For further reading about SAT® and ACT® tests, these resources will help:
SAT®, AP®, and CLEP® are trademarks owned by the College Board, which is not affiliated with, and does not endorse, this blog post or The HomeScholar, LLC.
Stay Informed
When you subscribe to the blog, we will send you an e-mail when there are new updates on the site so you wouldn't miss them.
Comments
No comments made yet. Be the first to submit a comment