Do homeschool P.E. credits seem elusive to you? Do you wish there was a surefire system to document all P.E. credits? To be sure, homeschool P.E. isn't the same as a public school P.E. class, but you have the blessing of a wider range of options for P.E. credit as a homeschooler.
PE is just one of the 10 critical courses to study before graduation. Learn about all ten in my free ebook. Click to download: The 10 Essentials for Homeschooling High School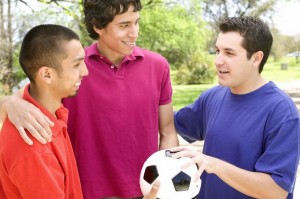 It is relatively easy to document these credits as well, just count the hours and have proof of participation. One homeschooler, who's child is playing a sport for P.E. credit asked me this question about documenting it:
What other records should be kept for P.E. if your child is playing a sport? Do you need to keep a schedule, wins or losses, stats, anything like that?
I would encourage you to save a little something to document as proof. As I was thinking about that for our swim team, my kids were given ribbons for participating even though they weren't awesome swimmers. I just saved their ribbons and that became my documentation. They also gave a certificate of participation at the end and I did keep that in case anybody asked.
Often for things like P.E., they don't really need proof. One exception might be if your child wants to go to the military or apply for a military academy. Those universities are very particular about certain things and they don't just want proof of academics; they also want proof of physical fitness. If you play a sport, it's nice to know if they have a time, their win=loss ratio, the name of the team, the name of the coach etc. so that they can document the physical fitness of your child.

Homeschooling is NOT the same as doing schoolwork at home.  There is LOTS of freedom!  My Gold Care Club will give you all the help you need to succeed!