Homeschooling High School: Born That Way, Stay That Way, Succeed That Way!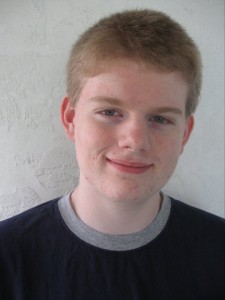 As parents, our job is to take the child we are given, and shape and mold them into the adults they are meant to be. Carol has finished homeschooling her oldest child, and she provides a wonderful example for others. You can't change who your child is, but you can make sure they are happy and successful!
My son, CJ is graduating from our homeschool high school this week! Wanting to be an encouragement to other younger homeschoolers and celebrating the graduation of my firstborn here is our story:

When it was time for my firstborn to go to kindergarten my homeschooling friends encouraged me to try homeschooling but I was too chicken. By the middle of fourth grade my son was asking to be homeschooled and after attending a homeschool conference and lots of reading I took the plunge and we began "fifth grade" at home.

Shy from birth, my son does not want the slightest bit of hoopla in celebrating this wonderful event so we have compromised: taken one picture on our porch and invited a handful of people to our house for a little reception. But I feel like shouting and dancing and throwing a giant party and inviting everyone I know!

A few years after the start of our homeschool journey my husband became disabled with a chronically painful condition that is still not cured. So...out of necessity our homeschool has been shall we say, in no waytraditional. And how much other people helped us along the way.... we could not have done it without others helping with transportation, materials, encouragement, meals, cleaning, and money gifts.

I so appreciate your materials on transcripts and course descriptions Lee, that have helped me pull it together after the fact. I am so proud of my son, as well, in that as he has become a man he has taken responsibility for his own learning and applying for college and scholarships. Besides getting a huge tuition break at the college of his choice we have just learned he has also qualified for two large local scholarships totaling seven and a half thousand dollars! We truly praise God for this provision.

As unbelievable as it sounds within several years we also experienced a flood that surrounded our house with water and washed out our driveway, got struck by lightning, experienced an ice storm that took out electricity in over half the state for days and in some places weeks, had record snowfalls and then finally had our house get hit by an unusual tornado!

He is there assisting us even in the midst of sickness, pain, loss of income, moving and disruption. I am thankful for His grace and power in completing this homeschool journey with one child.....now on to the next! :)

~ Carol
Like Carol, one day you will be dancing and shouting and throwing a party (if you child will let you...) Until then, I'll admit it's not always easy. But it's VERY rewarding!
If you are concerned about facing family trauma in the midst of homeschooling, perhaps this article will help:
What If? Homeschool High School without Fear
.
Even through difficulties, homeschoolers can be successful!

When you are applying for colleges, you will need a great homeschool transcript.  The good news is you can "do-it-yourself" and save thousands.  Discover the
Total Transcript Solution
.
Stay Informed
When you subscribe to the blog, we will send you an e-mail when there are new updates on the site so you wouldn't miss them.
Comments
No comments made yet. Be the first to submit a comment