Oregon Christian Home Education Conference: Continuing Education for Homeschool Parents!
In many states nurses, doctors, and other professionals are required to take a certain amount of continuing education courses each year. They need to stay up-to-date on the latest research and trends.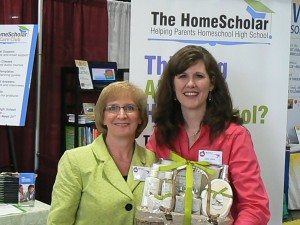 Homeschooling parents have a similar need for continuing education. Soon it will be homeschool convention time, and I encourage you to put them on your calendar now! If you don't have a convention in your state, go to a neighboring state. Conventions can show you the newest curriculum, and you can find the resources that will be perfect for your child. Conventions provide wonderful classes that will instruct you on how to teach, or encourage and inspire you to continue along this sometimes challenging path. You'll find educational games and activity suggestions that will spark interests in your children. Conventions aren't 100% perfect, and I know they can be very overwhelming at times. They can also help you plan ahead, learn more, and become motivated again.
Do you live in or near Oregon? I'll be presenting at the
17th Annual Oregon Christian Home Education Conference
on June 24th and 25th! Join me at the
Oregon Convention Center
in Portland for some continuing education of your own.
Friday, June 24, 2011
Workshop Session 1, 9:30 - 10:30a
Finding a College
Find a college or university that will love your student almost as much as you do! Topics to be covered in this workshop include finding colleges to visit, comparing college statistics, getting to know colleges, visiting colleges, evaluating colleges and applying to colleges.
Workshop Session 2, 2:00 - 3:00p
Christian Homeschool Success in High School
What does the Bible say about homeschooling? How can Christians draw on their faith to succeed in high school? In this talk, Lee discusses all these questions as well as covers all the homeschool high school basics. Learn to prepare and not panic about high school.
Workshop Session 3, 3:15 - 4:15p
Planning High School Courses
Plan your high school courses so you are prepared for anything! This course will explain what core classes to cover every year, and what classes are required for college graduation. We will discuss how to get the core classes covered within four years, and ideas for planning your homeschool week. You will use what you know about your students and their learning styles and consider the subjects that colleges want to see.
Saturday, June 25, 2011
Workshop Session 5, 11:30 - 12:30p
High School Grades and Credits
This workshop will answer the common homeschool lament, "How can I give grades when I don't give tests?" Learn how you are already evaluating your children, and how you can translate that information into words and numbers colleges understand. You will learn "grouch-free" ways to determine high school grades, and find freedom in grading criteria and grading scales. Come and learn the many ways of determining high school credits and discover how to make mommy-grades and kitchen credits easy for colleges to understand!
Workshop Session 6, 3:15 - 4:15pm
"What's Next?" Options After Homeschool High School
This workshop will help you plan your course of action after high school. You will learn about: CLEP, Community College, Online Classes, Working, Regular College, CollegePlus!, and Gap Years. Get prepared to discuss post high school options with your high school student.
Don't forget to register for my giveaway gift at The HomeScholar booth in the
Exhibit Hall
! You'll love this one. Want a hint? Check out the photo from a previous convention with a previous winner! We'll also have great information available to introduce you to our
Parent Training Tools
, including our new
Parent Training A la Carte
!
I love meeting all of our homeschooling friends that we normally interact with through long-distance ways such as email, or
Gold Care Club
webinar events. Stop by and say hi. I'd love the opportunity to meet you face to face and chat about your wonderful children (or those things that only another homeschool mom would understand!
For more information on the workshops available at the convention, be sure to check out their
workshop schedule
.
Till we meet in Portland!

Homeschooling is NOT the same as doing schoolwork at home.  There is LOTS of freedom!  My
Gold Care Club
will give you all the help you need to succeed!
Stay Informed
When you subscribe to the blog, we will send you an e-mail when there are new updates on the site so you wouldn't miss them.
Comments
No comments made yet. Be the first to submit a comment