Homeschooling High School: Favorite Writing Curriculum
If you ask 10 homeschoolers, you may get 10 different answers about favorite writing programs.
Learning how to write well often starts with reading great writing. Having trouble finding books your middle schooler will love? I've done the work for you! Click to download: The HomeScholar Middle School Reading List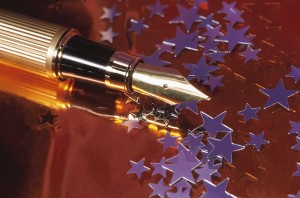 Do you have any favorites for teaching composition beginning in 9th grade? Funny thing, I am a writer and editor by trade but haven't a clue how to teach it. My kids have learned the most basic of skills in writing an essay but that's about the extent of it.Also, do you have a preference for choosing curriculum that incorporates all facets - lit, grammar, vocab and composition, or separate pieces?
Thanks!
~ Barb
Dear Barb,
Like all curriculum choices, it's more about the fit with the student, and not about what I like. Here are some articles that may help, though:
10 No-Fail Strategies for Choosing High School Curriculum
"
Learn to Write the Novel Way
"
Homeschool High School – Online English Ideas
.
If you have some time, this website will help with learning styles HomeEdExpert.
If you don't like the feel of that website, then her book is 100 Top Picks for Homeschool Curriculum:
Choosing the Right Curriculum and Approach for Your Child's Learning Style
by Cathy Duffy.
Personally, I loved
Sonlight Curriculum
, and that is what we used. I also hear particularly good things about www.WriteShop.com (see their blog at www.writeshop.com/blog,
Institute for Excellence in Writing
(writing only, not literature, so just add some good books) and
BraveWriter
(one of my
Gold Care Club
members is a HUGE fan.)
I would love to hear about writing programs that other homeschoolers have already USED and LOVED. No fair mentioning things you haven't used yet - or things your child barely tolerated! I'm only looking for positive recommendations, please.

The Comprehensive Record Solution provides the training and templates and real life examples of successful high school records.
Stay Informed
When you subscribe to the blog, we will send you an e-mail when there are new updates on the site so you wouldn't miss them.