Homeschool Legacy John Taylor Gatto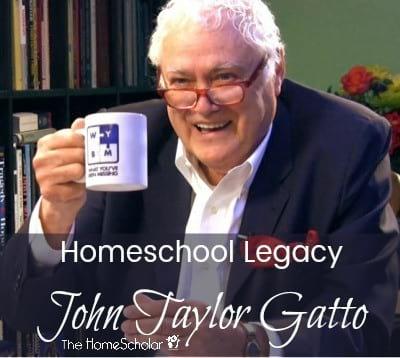 Read books by John Taylor Gatto, and be encouraged in your decision and ability to homeschool. A cornerstones of the modern homeschool movement, his eye-opening books were instrumental in motivating a generation of homeschoolers who began educating children at home without the benefit of a computer or a huge variety of homeschool curriculum.
My husband always encouraged me to take "continuing education" classes by going to homeschool conventions and attending support group meetings. My husband got his own "continuing education" classes by reading books by Mr. Gotto.
John Taylor Gatto has passed away but his spirit and work live on through books. Celebrate this homeschool hero, and learn more about his encouraging books.
Lisa wrote, "Dumbing Us Down" was eye opening! He was one of the reasons we chose this educational path for our children. Our own experiences in the public school system had not been the best and his knowledge and wisdom encouraged that we couldn't do any worse!"
Beth wrote, "I loved Dumbing Us Down. He also has some great youtube videos of speeches he has given. He is one of my favorite people in the world. I was so sad to hear about his passing."
Teressa added, "I remember reading Dumbing Us Down and trying to quote small pieces to my husband, but it was so good I would read pages LOL"
Jasmine says, "The Underground History of American Education is what I tell anyone considering or currently homeschooling to read. It will change your perspective, and once you know the truth, you are accountable for how you choose to react to it."
Tricia said, "Weapons of Mass Instruction was good, as was his lengthy and eye-opening book The Underground History of American Education."
Here is what my husband says about these important books.
"Back when we started homeschooling, around the time people started reading off of tablets - cuneiform tablets - I tried to keep up-to-date on the state of public education by reading works from the early homeschool pioneers. The most influential of these authors was John Taylor Gotto. He provided the intellectual underpinnings for what my heart had already decided was the right educational choice our two boys - homeschooling.
The first book I read was "The Underground History of American Education" which explained why the American educational system seemed impervious to change, regardless of how much money we threw at it. After that I read "Weapons of Mass Instruction" which convinced me that homeschooling was the quickest and most logical choice to raise independent and assertive learners.
I benefited greatly from Mr. Gatto's insights and I think they are still as on-point as when they were written. I encourage you to read and share his works with any family members who might be unconvinced about your homeschooling choice. Continuing education and lifelong learning applies as much to parents as it does to your children. Keep reading and learning about why you homeschool. It will give you confidence in your chosen vocation."
Matt Binz, Mr. HomeScholar
Do you have your own experience with Mr. Gatto's books?
Stay Informed
When you subscribe to the blog, we will send you an e-mail when there are new updates on the site so you wouldn't miss them.
Comments
No comments made yet. Be the first to submit a comment