Cosplay for High School Credit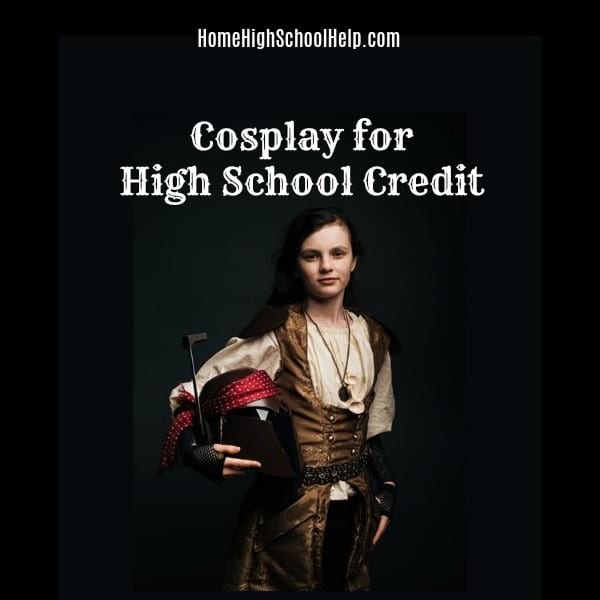 For non-geeks, let me explain first that cosplay is a contraction of two words, costume and play. It means dressing up as a fictional character. Most often these characters are from a manga, anime, or comic book but they can also be from a movie or video game.
Let me translate this activity into high school credits for homeschool cosplay geeks. If your child is creating costumes, you can include this activity on their high school transcript. Make sure your child is sewing them on their own, with minimal help from a parent, much like they would in a high school arts class.
For the transcript, a good class title might be "Costume Design and Construction." A credit means your child worked 120-180 hours, or about an hour a day (4-5 hours a week) throughout the school year.
A grade of 4.0 means they successfully met your expectations with the work load and ultimately created the number of costumes you believe are representative of 120-180 hours of work. Your grading criteria could be something like this:


Grading criteria options


1/3 Design Work
1/3 Project Construction
1/3 Costume Presentation
Or more simply:


1/3 Daily Work
1/3 Sewing Labs
1/3 Final Project
It's important to write course descriptions for delight directed learning. Choose some of the words below for your cosplay class.
Course description words
analyze fibers

analyze textiles
basic costume construction
character analysis
consider design elements of balance, line, pattern, shape, space, texture

cosplay

production

costume design
culminating project
design
design accessories
drafting
draping
drawing
evaluate fit on various body types
evaluate garment construction
evaluate cut and style
figure drawing
garment revision
idea sample
idea sketch
initial design
maintenance of apparel
period research
pre-project inspiration
psychology of clothing
rendering ideas
research
research popular styles and trends
script analysis
sewing
textile characteristics
utilize technology
various textures
If your child is taking it to the next level by selling costumes or considering a future in costume design, your course description might include these words:

Develop a business plan

Develop marketing strategies
Explore career options in apparel
Explore careers in textiles
Marketing and sales of apparel
You can also list the tools used - fancy serger or embroidery machine, or basic sewing machine.
Combine the above words into sentences. Combine sentences into a paragraph. Voila! There's your course description
Thank you for Heather her family for their willingness to share their homeschool. Thank you to Heather's daughter, Aiden, for showing us her talent of costume design through these wonderful creations she made for the South Carolina ComicCon. And thanks to Will Crooks @willcrooksphoto forgiving me permission to use his amazing photos
Stay Informed
When you subscribe to the blog, we will send you an e-mail when there are new updates on the site so you wouldn't miss them.
Comments
No comments made yet. Be the first to submit a comment