Homeschooling Works with Special Learning Challenges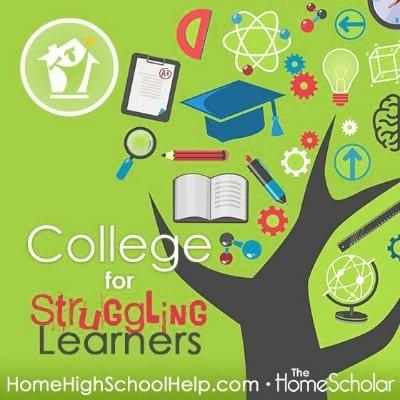 Are you struggling with educating a special needs learner? Homeschooling works. It can improve your child's academic performance level, even allowing them to achieve grade level in their most challenging subjects. Older teens can still learn high school subjects, without relying on their weakest abilities to get the information. If reading is a challenge for children in your home, your child can learn through listening. If writing is difficult, your child can answer questions orally. All of their learning can take place without being slowed down by their unique learning challenges. Teens can progress through all the grade levels, and even into successful adulthood.
College for Struggling Learners is an achievable goal.

Read how Kimberly is planning the coming year for her special learning needs children.
"You have given me such hope that I can help my girls finish strong. They do have what it takes, it just takes more work and time for them. Something so simple as Lee's assurance that graduating at 19 isn't the end of the world brought me amazing peace yesterday afternoon. Lee has also given me "talking points" in my parent/home school tool belt that are motivating my girls. And morning meeting time, so simple, yet already so effective. Again, it has been such a blessing finding you. Thank you for taking what you learned and succeeded in and marketing it in an affordable and friendly way to bless others. Thank you for sharing all your real life experiences, good and bad to help us still in the midst of the journey. The Lord bless and prosper you graciously."
Most appreciatively,
Kimberly

What is a morning meeting? It's a regular, short meeting, three times a week or more. During the meeting, touch base with your child on most subjects, especially those your child isn't inherently motivated to do. For more encouragement, read how to Have a Morning Meeting, like Kimberly, for high school success.
Struggling learners may take more time and effort to learn, but like with any child you homeschool, the outcome will be rewarding. Take heart, struggling learners can learn! Do you have special needs learners in your home? How do you help them?
Comments
No comments made yet. Be the first to submit a comment