Class Rank for Homeschoolers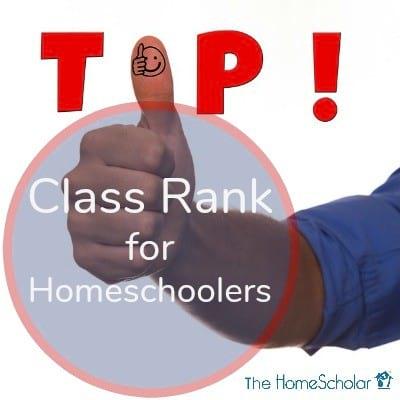 Class rank is just one decision you will need to make on your homeschool records. Let me teach you how to make transcripts and records that open doors to college admission and HUGE scholarships! Click to register: Homeschool Records that Open Doors Webinar.

You can use test scores, with the percentile ranking they provide, and translate that into a "classrank" for your homeschool. Or you can indicate your child is the top of their class in your high school - even though you have a graduation class size of "one." You can politely decline to answer (rejecting the premise of the question, as they say in debate) and simply say it's not an applicable question.
Here are some options to say it short and sweet:
Top 4 %
96th Percentile Nationally
1 out of 1
Not ranked N/A
Some colleges really have a preference - so I would ask your adviser if you have a relationship with them. Sometimes the way you say it can impact scholarships.
I really encourage you to have developed a relationship with the colleges that you apply to, so that you know someone that you can ask, when faced with a question that comes down to college preference. Please read my free downloadable book, Finding a College You Love ebook.
My preference? All else being equal, I'd call it "1 out of 1" since your child is the top of the class in your home.
What I do not recommend is ranking your two homeschoolers together. Do not say "1 out of 2" and "2 out of 2" even if you have twins. It makes the second child seem like they are in the bottom of the class, rather than ranked second in the class.

Comments
No comments made yet. Be the first to submit a comment