Have your children EVER changed their mind?
Have your children EVER changed their minds?  When I'm speaking to a group, I usually ask parents to raise their hand if their child has every changed their mind about anything.  Every hand goes in the air!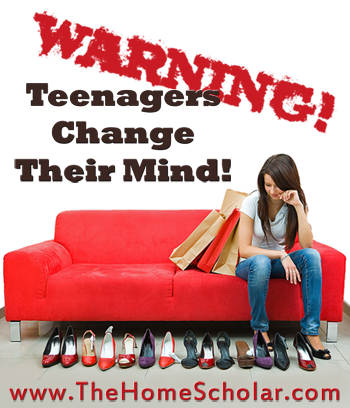 Why bother with getting your kids ready for college when you feel certain they won't go?  Because sometimes, when you least expect it, teenagers will change their minds.

Stop laughing! You know it's true!

College preparation makes a lot of sense for students who plan on going to college. College-bound students need course work that will prepare them for their college studies. Students need to take college admission tests, and parents need to learn about grades and credits. College-bound students need a homeschool diploma and a homeschool transcript. College preparation for college-bound students is expected.

But have you ever considered what a college preparatory home education could provide for students who will not go to college?

I have an article that will help you, called Warning! Teenagers Change Their Mind!

In this article you will learn these 5 important things about homeschooling high school, and being prepared for anything.




Why college preparation is best for non-college bound children.


How you can provide maximum flexibility for your child.


Why it's OK for Christians to attend college.


The difference between our history and our children's academic future.


Why academic preparation can't hurt anyone!


Read 
Warning! Teenagers Change Their Mind!
Stay Informed
When you subscribe to the blog, we will send you an e-mail when there are new updates on the site so you wouldn't miss them.
Comments
No comments made yet. Be the first to submit a comment