Flash Point Fire Rescue Game
Flash Point Fire Rescue is a cooperative board game the whole family can play together.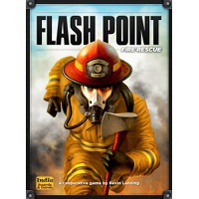 There are a lot of great family games out there, and as part of a family who likes games, I've played quite a few of them.  Most are fairly competitive, which plays well to my family of males, but sometimes it's nice to play a game together where we all win, where we all cooperate towards the same goal.  If you are looking for a game that leaves out most of that typical competitiveness, and creates a different dynamic in family gaming, give some thought to Flash Point, a new cooperative game produced by Indie Boards and Cards.

Rated for ages 10 and up, and played by 2-6 people, Flash Point involves all the players together in a cooperative mission: to save as many victims as possible from a burning building before it collapses.  The game diversity is expanded with three different levels of play, and the game board is dual-sided, so as players become more experienced, the challenge level can be increased.  Game play also depends a lot on the random throw of the dice, so the game changes each time you play.

This is a well-produced game, with great quality graphics and playing pieces—nothing flimsy or shoddy here!  Families especially will enjoy the opportunity to play and work together towards a common end, and will find themselves drawn back multiple times for new scenarios and outcomes.

A great Christmas gift idea!

Are you on Twitter?  Follow me here!  
Stay Informed
When you subscribe to the blog, we will send you an e-mail when there are new updates on the site so you wouldn't miss them.
Comments
No comments made yet. Be the first to submit a comment