Don't Let Your Journey of 1000 Miles Start with a Face Plant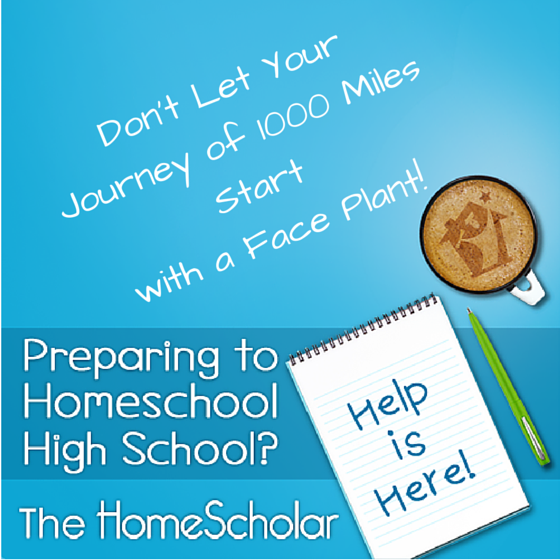 And so it begins ... your amazing, unique, exhilarating path towards homeschooling high school with confidence starts now!

I have a plan in place to help you and your children achieve your dreams and give you the freedom to homeschool in a way that perfectly fits your crazy, wild, out-of-the-box family. You can say goodbye to a one-size-fits all high school education that doesn't fit anyone. Your high school can be as weird and wonderful as you choose to make it, and I can show you how.

At the same time, you will be secure knowing that - when completed - colleges will love the results. In other words, they will love the wonderfully unique children you have raised and trained to take on the world.

BIG PROMISE and BIG RESULTS

How can I say this with confidence? It's not just that I've been-there-done-that-got-the-college-sweatshirt ... I have helped thousands of homeschool parents just like you to achieve their own dreams and launch their children into happy and successful lives.

For over ten years, I have collected lessons from their best practices, their most devastating, agonizing failures, and their most crowning, mountain-top successes and NOW I have packaged them into one stellar product that will help you reach your goals with confidence and peace.

The High School Solution is that product. The germ of the idea came as I was helping our pastor's family get started on their own homeschooling journey. As I collected and organized resources for them, my husband looked over my shoulder and said, "Wow! I bet other people might like that, too!"

NO DUH! **Hand Slapping Forehead Sound**

Of course! I remember that feeling when I was starting out. At one time we were all beginners at homeschooling the upper grades. What I would have given to have these resources there, ready for me in my time of need.

I want you to imagine how it will feel to be starting high school with ...
... a solid plan that covers all the requirements
... a strategy to enable your kids to master the basics but also have plenty of time to discover and dive deep into their area of passionate interest
... knowledge of all the ages and stages of high school and the insights to know where the potholes might be located
... and a place to go to get all your questions answered as your homeschool evolves.
That, in a nutshell, is the High School Solution. Now, you can get this amazing resource for $100 off the regular price when you use coupon code hss97 at checkout.

Get the High School Solution

If you are curious about what's inside the High School Solution, watch this video below or click here for a quick tour:

And check out all these great bonuses, that come with your purchase! Grab these bonuses now!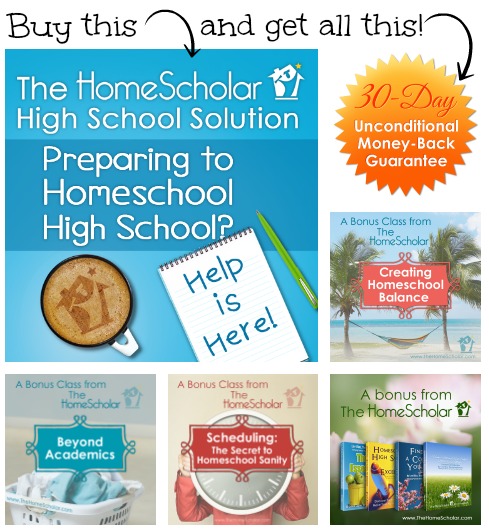 Get $100 off on the High School Solution!

Don't wait! If you start now, soon you will be feeling 100% prepared for the coming year! Hundreds have already taken advantage of this offer and are reaping the benefits of my ten years of research and the collective wisdom of thousands of my clients.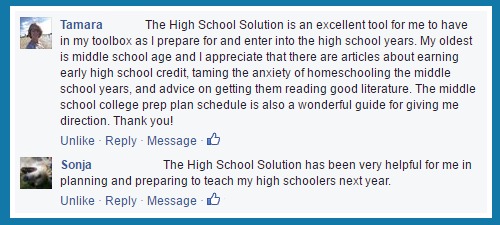 Think of how confident and secure you will feel knowing you can tread in the steps of others who have successfully navigated high school and launched their children into adulthood!

You don't have to do this alone and you don't have to make it up as you go along!

♪♫*♪♫*Hallelujah!!♪♫*♪♫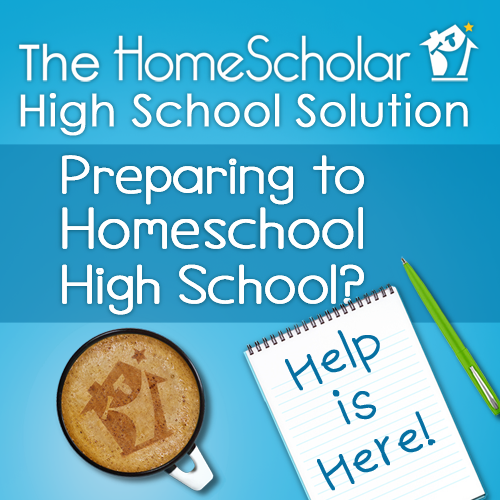 Get the High School Solution Here

If you still have questions, just comment below and my staff will be happy to help you. We are all here for you, we are all homeschool moms, and believe me, we are all cheering you on!



Stay Informed
When you subscribe to the blog, we will send you an e-mail when there are new updates on the site so you wouldn't miss them.
Comments
No comments made yet. Be the first to submit a comment